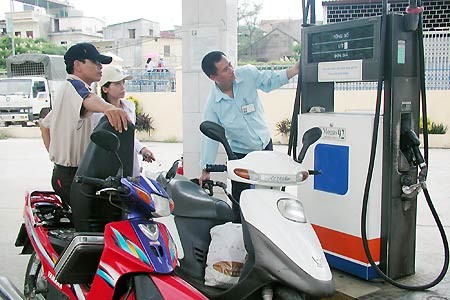 Fuel prices rise VND300-700 a liter on October 24.
The Finance Ministry and Ministry of Industry and Trade announced October 23 they would allow fuel firms to raise their prices by VND300-700 a liter.
From October 24, A95 gasoline was selling at VND16,000 a liter and A92 at VND15,500.
Meanwhile, 0.05S diesel oil was trading at VND13,300, 0.25S diesel oil at VND13,250, and kerosene at VND14,200.
The ministries ordered fuel firms to continue helping stabilize petrol prices by funding VND200 per liter for gasoline, kerosene, and mazut oil; and VND300 per liter for diesel oil.
Fuel prices continuously advanced over the last 20 days on the global market.
In Singapore, A92 gasoline was at US$81 a barrel; diesel oil was above $86 a barrel, and kerosene was around $85 a barrel on October 22.
Domestic fuel firms said they have lost around VND1,000 a liter due to the high prices.