Deputy Minister of Finance Vu Thi Mai told reporters on Dec 19 that some wholesale fuel suppliers have claimed losses repeatedly, when actually they have been raking in huge profits.
She was citing audit results to prove her statement. In fact, audit results show that during the period between July 1 and August 26, Petrolimex enjoyed a profit of VND130 billion (US$6.24 million), while the respective figures for Saigon Petro and Petimex were VND48 billion and VND22 billion.
"Therefore, the price cut imposed on August 26 was completely reasonable', she concluded.
It is worth noticing that these companies paid very high commissions and indiscriminately granted commissions far beyond their limits.
According to Ms Mai, the main cause of these losses is the fact that the wholesalers have granted commissions to dealers that are unreasonably high.
She said Petrolimex paid its dealers commissions worth VND210-630 a liter in the first six months of the year, resulting in an overrun of VND516 billion in business expenses. In the same period, dealers of Petimex received VND867 in commissions for every liter of fuel they sold.
The Finance Deputy Minister said that although there is no regulation on the specific commission rate, wholesalers are allowed to pay their dealers as they choose. The Ministry of Finance has stipulated the "fixed" business expenses at VND600 in fuel retail price calculation.
The expenses include commission for dealers, but the audit has found that many wholesalers pay a commission exceeding that limit, Mai said.
"While consumers have to suffer high fuel retail prices, and the government has been putting in efforts to tame the high inflation, it is unreasonable of wholesalers to offer such high commissions," Mai said.
Replying to reporters' questions on commission rate limits, the Vice Minister said this occurs because of lack of regulation specifying a limit for commissions.
"This is because the wholesalers are allowed to negotiate with their dealers on the commission rates, and settle amongst themselves."
Mai promised that such a commission limit be stipulated soon, since dealers of different wholesalers are facing unhealthy competition with each other due to different commission rates offered.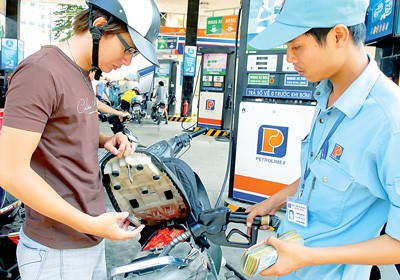 Consumers have to suffer high fuel retail prices because of high commission for dealers
However, Nguyen Tien Thoa, head of the Department for price control added that in the first half of this year, the wholesalers have actually incurred losses from their fuel trading activities.
Hai said his unit had called on the Ministry of Finance to continue inspections on wholesalers to clarify the issue.
"The ministry will also demand the exclusion of fixed profit from the prime cost calculation, in order to bring more transparency."
Nguyen Hoang Hai, deputy head of the Business Finance Agency under the Ministry of Finance, said that most of the investments on other non-petrol fields (real-estate, banking, securities…) are ineffective.
Based on audit results, while wholesalers suffered losses, their dealers enjoyed hefty profits. Reporters raised skepticism among insiders about the former's transfer pricing activity.
Concerning this issue , officials of Ministry of Finance promised that they will clear the matter soon because the press conference on Dec 19 only aimed to publicize the audit results conducted on four major fuel wholesalers.