The Ho Chi Minh City International Furniture and Handicrafts Fair opened at the International Exhibition & Convention Center October 6 with 300 local and foreign firms taking part.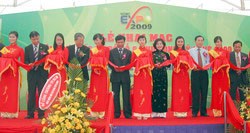 The opening ceremony of the HCMC International Furniture and Handicrafts Fair 2009
Japanese experts are on hand to advise Vietnamese wood processors and handicraft makers on design and marketing in their country.
The fair provides domestic wood processors an opportunity to introduce their products to oversea markets and gauge foreign consumers' requirements.
Exhibitors who are unable to put up a booth at the fair can advertize their wares on www.hcmexpo.com.vn and www.tradeshow.com.vn.
The exhibition, being organized by the city Department of Industry and Trade, will run until October 10.