Vietnamese sawmillers and furniture manufacturers meeting in Ho Chi Minh City last week rejected a report by the UK-based Environmental Investigation Agency (EIA) that they were using illegally felled timber from the Mekong region.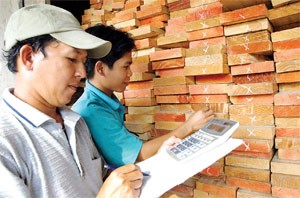 Sadaco's staff count imported planks before using them to make furniture 
The EIA noted in a press release that Vietnamese furniture exports earned US$2.4 billion in 2007, a 10-fold increase since 2000, making Viet Nam the fourth-largest exporter of wood products in the world. The United States is the largest market for Viet Nam, importing more than US$1 billion worth in 2007, or 45 percent of the total.
They said Viet Nam had become the world's fourth-largest and Southeast Asia's second-largest exporter of furniture because Vietnamese companies were importing illegal timber.
Tran Quoc Manh, vice chairman of the Ho Chi Minh City Handicraft and Wood Industry Association (HAWA), described the report as incorrect and defamatory, and said it could harm Viet Nam's furniture industry.
In a report jointly done with Indonesia's NGO Telapak, the EIA said Vietnamese furniture companies were using huge quantities of timber illegally felled in Laos, but the report written by undercover investigators did not say why the timber was illegal.
Mr. Manh agreed that Vietnamese firms did import timber from Laos, but the trade was perfectly legitimate and their imports were certified by the customs agencies of the two countries.
HAWA chairman Nguyen Chien Thang said much the same thing and added that most furniture makers in Viet Nam got their foreign timber from suppliers certified by the Forest Stewardship Council.
Though the export turnover of Vietnamese furniture is not the highest in Southeast Asia, the number of furniture exporters certified by the council is way more than elsewhere in the region. While only eight Thai, 70 Indonesian and 80 Malaysian exporters have the certificate, the number in Viet Nam is 151.
In addition, timber from Laos accounts for only a small part of the wood used by Viet Nam's furniture industry, Mr. Thang pointed out. Most of it comes from New Zealand, Australia, the US and within the ASEAN region. Last year, Viet Nam imported around two million cubic meters of timber.
Trinh Vy of the Vietnam Timber and Forestry Products Association (Vietforest) dismissed the report's description of Viet Nam as a "Southeast Asian hub for processing illegal timber."
"If that is so, how do the EIA and Telapak explain Viet Nam's spending of US$1 billion to import timber from around the world?" he asked.
Last year, Viet Nam spent US$70 million to buy timber such as oak, ash and alder from the US, and beech from Germany, Belgium, Rumania, Italy and France. It also bought eucalyptus from South Africa, pine from Australia and New Zealand, and teak from Africa, Mr. Vy said.
Savimex general director Nguyen Hoang Vu said the report failed to mention artificial wood or local timber, which in fact make up a large proportion of the material in Vietnamese furniture for export.
He said furniture importers usually ordered the Vietnamese manufacturers to use timber from America and Europe like oak, beech, ash and alder.
The Laos government banned the export of logs and sawn timber in 1999 and has since maintained a close watch on the timber industry. Therefore, the report is incorrect when it claims that Viet Nam is importing vast quantities of hardwood logs from Laos for its outdoor furniture industry, Mr. Vu added.
Mr. Thang noted that foreign companies were still buying furniture from Viet Nam despite the report by EIA and Telapak.
However, according to Vietforest, some US importers have begun to ask Vietnamese furniture makers for an explanation and pledge to use only legal timber.
Most choosy markets have been requiring Vietnamese furniture exporters to show certificates proving the legal origin of their timber when they place their furniture orders.
Also in their report, EIA and Telapak claim to have evidence that traders from Thailand and Singapore are securing timber from Laos.