This year many gardeners expect that orchids will strongly attract customers during the coming Tet Lunar New Year holidays, mainly because of their aesthetic appeal and prevailing consumer sentiment, influenced a great deal by the economic recession.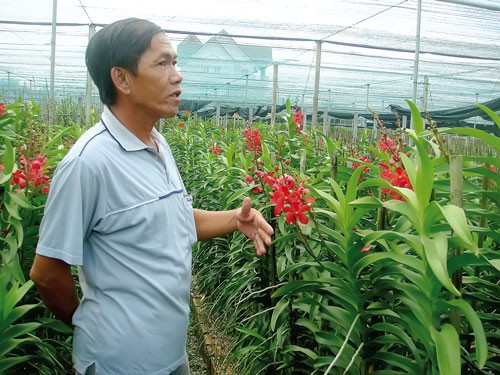 Mr. Pham Anh Dung in a Mokara orchid garden. (Photo: SGGP)
Experts in the gardening industry forecast that there will be many changes in the traditional ways of decorating houses with flower pots during Tet. Accordingly, orchids will possibly sell out the most because of their high aesthetic appeal and fresh new design styles. The price is also expected to rise by 10-20 percent.
Many Mokara orchid growers in Cu Chi District said that in recent years, with the grafting of Mokara orchid being widely developed, the market has seen purchase power increase robustly year-by-year. For the upcoming Tet Lunar New Year holidays, orchid gardens have been blooming with new technical methods being applied to improve productivity. However, it is forecast that they may still fail to meet the demand.
Nguyen Van Thuy, deputy director of Agricultural Services Company in Cu Chi District, said that flower gardens in Cu Chi District have sold flowers to many provinces in the country but Ho Chi Minh City is still the main market which accounts for 40-50 percent.
By mid-October, gardeners had started to induce orchids to flower and Mokara orchids will be put in the market from lunar December 23. There are many varieties of Mokara orchids and they are named after their colors, such as Mokara pink, Mokara banana, Mokara red and Mokara orange, of which light yellow Mokara orchid is currently the most favorite.
Flowers Association of Ho Chi Minh City said that it will help market the flowers for gardeners of Cu Chi and Hoc Mon Districts and Binh Duong Province. The association will sign long-term contracts with gardeners to ensure a stable output for them all year round.
Pham Anh Dung, chairman of Cu Chi District's Orchid Association, said that the model of cultivating Mokara orchids in the district has developed in the past five years. The government had supported 60-80 percent of total investment capital for households to plant orchids, and 100 percent of capital for developing infrastructure. This model has received positive response from several farmers and has brought higher economic results than other models.
During the period of 2010-2012, more than 300 households in the district switched to growing Mokara orchids on an area of 200 hectares. Mokara orchid growing area is expected to reach 400 hectares by 2015. With the suitable geographical location and weather conditions, many households have succeeded, earning high profits.
A mature Mokara orchid plant sells for VND180,000-200,000. After six months, a Mokara orchid plant produces two to four saplings which sell for VND30,000-50,000 each. Thus, an orchid garden will recover its investment in about three years, said Mr. Dung.
Bui Van Cuong, a Mokara orchid grower in Tan Phu Trung Commune in Cu Chi District, said that he started to grow orchids on an area of 3,000 square meters in 2006 and it is now 20,000 square meters. On the occasion of Tet, orders for orchids have increased and though his garden has expanded, it fails to meet the demand. This year, although the costs for fertilizers and laborers climbed, he would keep his orchid price unchanged.
This year, with a slow economy, people will be more hesitant in choosing flower pots for decoration during Tet New Year. According to Trinh Minh Tuyen, a member of the Farmers Association of Ho Chi Minh City, this year the style of decorating ornamental plants for Tet will be different. Instead of buying sophisticated shaped apricot blossom trees or unique bonsai trees, customers will choose trees with free natural shapes.
Nguyen Thi Tuoi, the owner of Minh Tan Decorative Flower Shop in District 10, also shared the thought that besides apricot blossoms and peach blossom trees, kumquat trees will be specially favored whereas pyramid-shaped and pine-shaped trees will be less preferred.
Currently, the shop has prepared more than 2,000 kumquat trees and 1,000 apricot blossom trees for Tet. Kumquat trees will sell for VND2-3 million each, while apricot blossom trees at VND5-7 million each.
At present, many gardeners in neighboring provinces are rushing to prepare their plants for flower markets at the September 23, Le Van Tam, and Gia Dinh Parks. Gardeners say that if purchase power for orchids rises by 10-20 percent and demand for ornamental trees declines, they will lower their costs.