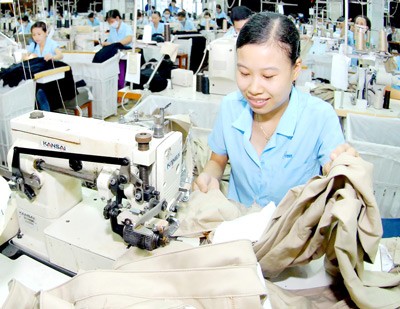 Workers at Saigon 3 Garment Joint Stock Company. (Photo: SGGP)

The Vietnamese garment sector is enjoying favorable export conditions including recognition of the high skill levels of its workers, better prices and increasing number of orders.
Market observers say garment exports should reach US$10.5 billion this year without difficulty. The improved conditions could also give more negotiating strength to Vietnamese firms, they add.
Lead time – the time taken from placing an order to receiving the goods – currently places much pressure on most foreign garment importers; and changes in the manufacturing market have prompted many importers to terminate orders at other Asian countries and shift them to Vietnam.
Many major garment companies have new trading partners beside their existing ones. Although Vietnam's payroll costs are higher than that of other countries in the region, including Bangladesh, Cambodia, and Myanmar, importers still want to do business with Vietnamese firms because of their experience in manufacturing and exporting. Vietnamese workers are found to be more skillful than those from other countries, and importers are prepared to pay higher costs for making high quality products.
For example, the Saigon 3 Garment Joint Stock Company has been chosen by Japanese importer Uniqlo to execute its orders. Satisfying and maintaining the requirements of a demanding importer like Uniqlo has helped the company win the confidence of other Japanese firms. Recently, around 60 percent of the company's orders are from Japan.
According to some garment firms, prices have also climbed by 10-20 percent over last year.
In fact, with all the favorable conditions, some people predict that Vietnam's garment exports could surpass this year's goal of $10.5 billion. Excepting a sluggish economic recovery in the European market, other major markets, including Japan and the US, have seen robust growth. Trading agreements between Asean and Japan and Korea have also helped increased exports to these markets. Exports to Korea and Japan have risen by 80 percent and 15 percent respectively, according to the Vietnam Textiles and Apparel Association.
Earlier, garment products were imported into Japan under the "China + 1" formula, which means Chinese products account for 90 percent and other countries for the remaining 10 percent. Taking advantage of recently signed trade agreements, Vietnamese firms are promoting exports strongly, and increasing their market share in Japan. It is forecast that Vietnamese garment exports to Japan will shoot up 20 percent this year.
However, the manufacturing capacity of firms is limited because a shortage of workers. Firms have to offer good working conditions for workers if they want the latter to work overtime to fulfill export contracts. Output prices have become better as retailers have begun to directly contact producers.
Pham Xuan Hong, deputy chairman of Vietnam Textile and Apparel Association, had some cautionary advise for Vietnamese garment firms in the current situation. He said they have to foresee the market's movements and offer reasonable prices while negotiating with importers.
Some firms have said that they have already signed many contracts for the year 2011. While advance orders give local firms several advantages, they should be wary, experts warn, because input costs, including that of materials and labor, are also on a rising trend.