Vietnam's garment and textile export turnover in the first seven months of this year surpassed 9.6 billion USD, up 16.3 percent over the same period last year.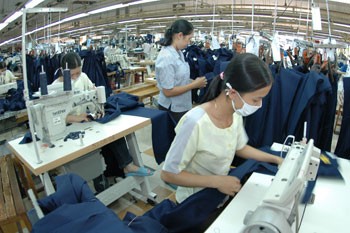 The filed photo shows employees working in Phong Phu Garment Factory that produces cloths for export.
During the reviewed period, with a contribution of 13.2 percent to the country's total export revenue, the sector maintained its high position in the US$1 billion club, only mobile phones and spare parts stand before it.
The industry is expected to rake in over US$ 8 billion in the remaining months of the years, fulfilling the target set by the Government.
Despite its stable growth, the sector is facing a range of difficulties in material production, according to the Ministry of Planning and Investment.
Statistics show that the garment and textile sector spent more than US$7.6 billion purchasing materials from foreign countries in the past seven months, up 18.2 percent year-on-year.
Given this situation, domestic and foreign businesses are pouring huge sum into the fibre supply chain, weaving and dyeing in order to raise the sector's competitive edge while minimising its dependence on imports.
Joining the move, the Vietnam National Textile and Garment Group kicked off the construction of Phu Hung fibre plant at the Phu Bai Industrial Park in the central province of Thua Thien-Hue.
Hong Kong-based Texhong Group recently put into operation the first phase of its fibre plant in the northern province of Quang Ninh.
Le Tien Truong, Vice Chairman of the Vietnam Textile and Apparel Association, said the sector is now confident it can compete in overseas markets.
The Trans-Pacific Partnership (TPP) agreement, once signed, together with other bilateral and multilateral free trade agreements, is expected to stimulate the sector, he said.-