The Su Tu Vang (Yellow Lion) - Su Tu Den (Black Lion) – Rang Dong gas pipeline was officially opened on July 24, said Vietnam Petroleum (PetroVietnam).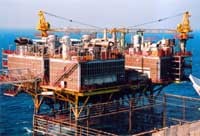 A view of Bach Ho (White Tiger) offshore oil rig in Ba Ria- Vung Tau Province.The Bach Ho gas field is an important energy resource with a total output of 1.5-2 billion cu.m of gas per year.
The project is part of an integrated gas line project, providing pipeline links from gas fields to the coast, and adding more gas to the Bach Ho Integrated gas project.
The gas pipeline system will transfer around 1.25 million cubic meters of gas per day from the Su Tu Den and Su Tu Vang gas fields, as well fields from Cuu Long to Rang Dong and continue onto to Bach Ho (White Tiger) through Rang Dong- Bach Ho gas pipelines.
An official from of Petrol Vietnam Gas, which was handed the project by PetroVietnam, said the first gas stream to come in shore in the south-east area was in 1995 and provides gas to Ba Ria Electric Power Plant, with an output of one million cubic meters per day.
With its new output, the Vietnam gas industry will provide materials and fuels to produce 50 percent of electric output, 30 percent of the country's fertilizer needs and over 30 percent of its liquefied gas.