For the third time in recent weeks, domestic gas prices have climbed upwards.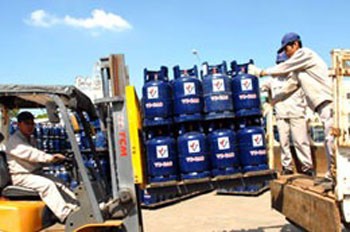 A 12-kilogram cylinder of cooking gas now costs VND267,000 (Photo: Vn Economy)
The Saigon Petrol Company has said it will increase the cost of cooking gas by VND1,833 a kilogram from November 28, while the price of a 12-kilogram cylinder will climb by VND22,000 to VND267,000.
Other companies including Saigon Gas, Elf Gas and Total Gas have also raised their prices by VND22,000-26,000 for a 12-kilogram cylinder.
Cooking gas has now seen a total increase of about VND40,000 per cylinder over the last several weeks.
Gas importers blame the increase on the global price of gas combined with a change in the exchange rate of the US dollar against the Vietnamese dong.
Nguyen Si Thang, chairman of the Vietnam Gas Association said that although world gas prices have risen notably over the past week, the association has asked its members, including Petrol VN Gas, VT Gas, Petrolimex, and MT Gas, to keep prices unchanged until the end of November.
In addition, some domestic gas traders are taking advantage of the world price and increasing their stockpiles. Thus, gas companies are forced to boost retail prices to stabilize the market, he said.