Businesses will be selling gasoline E5 with 5 percent ethanol in seven provinces in the next eight months.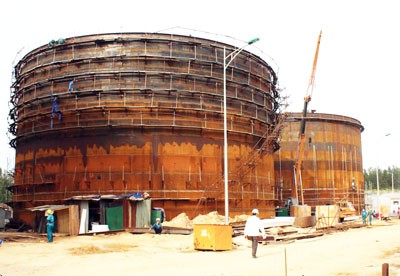 Gasoline with ethanol container at Dung Quat Bio-Ethanol Plant in Quang Ngai Province (Photo: SGGP)
This was revealed at a conference debating the government's plan to disburse the E5 gasoline. The Ministry of Industry and Trade, Vietnam National Oil and Gas Group, and the People's Committee in Quang Ngai Province attended the conference.
Eight out of nine Petro Vietnam Oil Corporation stations have sold the gasoline mixture in Quang Ngai Province, said Nguyen Xuan Thuy, director of the provincial Department of Industry and Trade. The remaining stations will be installed by June.
Gasoline E5 with ethanol will be available in the remaining six localities beginning July.
Quang Ngai Province has issued a regulation requiring motorcycles and cars of state organizations to use the blend in Quang Ngai City, Tu Nghia, Mo Duc and Binh Son.
Quang Ngai Province is the pioneer for the distribution of the blend because Dung Quat Bio – Ethanol Plant is located there. The province also planned 16,700 hectares of crops to supply the plant, said Thuy.
Businesses should ensure quality and the Government should increase subsidies in order to encourage residents to use the fuel, said Dang Vinh Sang, director of Saigon Petrol One Member Limited Company.
The subsidization rate currently is only VND200 per litter, which is too low to ensure profit.
The ethanol-gasoline blend consists of 95 percent of the conventional non-lead gasoline and 5 percent ethanol, according to Vnplus. Tests show that it has a higher octane rating than conventional gasoline which allows higher fuel efficiency.
The government recognizes the bio-fuel industry to be a pivotal point in ensuring energy security and reducing dependence on fossil fuels.