Retail gasoline and diesel prices have been increased by VND1,000 a liter, kerosene by VND850 per liter and mazut by VND350 per kilo, with effect from August 30. This is the second such rise in gasoline prices in the last three weeks.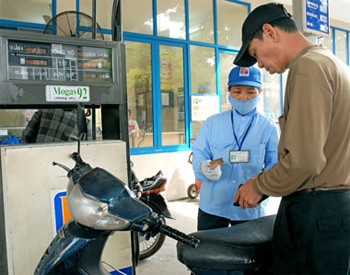 Retail petrol prices on the rise again after already being hiked this month
The new prices of A95, A92 and A83 are VND16,200, VND15,700 and VND15,200, respectively.  
Diesel has risen to VND13,100 per liter and kerosene to VND14,000, while mazut costs VND11,800 per kilo. 
The change has approved by the ministries of Finance, and Industry and Trade after the past twenty days has seen oil prices rise.   
This is also an immediate response to the recent suggestion by seven domestic gasoline retailers. They complained that with the new world gasoline prices at US$80 per ton, they would incur losses of VND1,000 – 1,500 per liter if the old prices were kept.   
The Ministry of Finance has also considered the burden of transportation fees and import tariffs for the retailers. It decided to reduce the import tariff applied for a variety of gas and gasoline products by five percent.  
Early this month, the ministries adjusted gasoline prices on August 8. Prices then increased by VND500 for gasoline and VND1,000 for mazut but kerosene saw a slight drop of VND500.