The Ministry of Finance has once again asked petrol businesses to reduce the price of gasoline by VND600 a liter from Monday, July 2, making this the fifth reduction in just two months.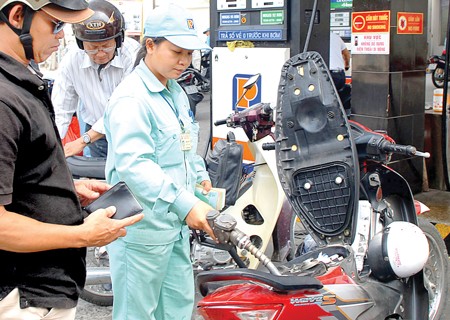 Gasoline price was again reduced by VND600 a liter on July 2 (Photo: SGGP)
The price of Ron 92 gasoline will slash by VND600 a liter to now retail at VND20,600.
The price of diesel and kerosene will also slash by VND200 to cost VND19,900 and VND19,850 a liter respectively.
Engine oil price will reduce by VND300 to cost VND17,650 a kilogram.
Price of petrol has now reduced five times within the last two months, bringing the total reduction to VND3,200 a liter in this period.
 
However, petrol businesses will still have to make a mandatory contribution of VND300 on every liter sold towards the price subsidized fund.
Related articles:
Further drop in petrol price
Gasoline price reduced by VND800 a litre
Second reduction in petrol price in 2012