Ministries of Industry and Trade, and Finance set new ceiling price for RON 92 petrol, bio-petrol E5, diesel and kerosene at 3:00 pm yesterday.
Retail petrol prices for RON 92 and bio-petrol E5 raised by VND 189 per liter; meanwhile, diesel and kerosene prices reduced by VND 163 and VND 74 per liter respectively, and mazut price was cut by VND 206 per kilogram.
According to Vietnam National Petroleum Group, the new ceiling price for RON 92 is at VND 18, 130 per liter, bio-petrol E5 at VND 17, 640 per liter, diesel at VND 13, 720 per liter, kerosene at VND 12, 720 per liter, and mazut at VND 9, 440 per kilogram.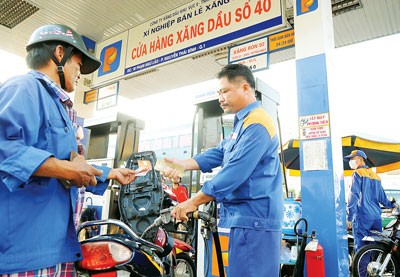 Retail price for RON 92 petrol goes up VND 18, 130 per liter. (Photo:SGGP)