Despite posting gloomy results in the first quarter of this year, Việt Nam's economy is forecast to grow 6.7 per cent in 2016, the Asian Development Bank (ADB) announced yesterday.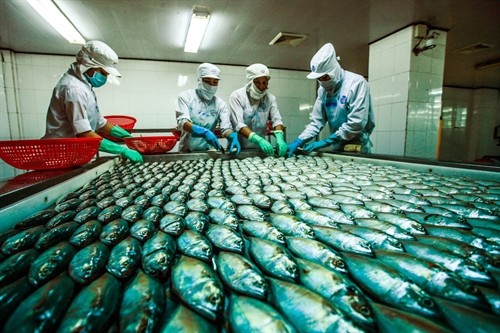 Workers process fish for export at Ngô Quyền Processing Export Joint Stocks Company in southern Kiên Giang Province. -- VNA/VNS Photo Trọng Đạt
Such a growth rate would equal 2015's, Việt Nam's highest growth for the last eight years. But Vietnamese economic growth is expected to fall to 6.5 per cent next year.
ADB's announcement came a few days after Vietnamese officials warned that Việt Nam was likely to fall short of its GDP target of 6.7 per cent this year, due to the severe ongoing drought and to salinisation affecting agriculture.
The country's GDP growth rate during the first quarter of this year measured just 5.46 per cent, according to the General Statistics Office. A far cry from the initial target set by the National Assembly (NA) and less than the same period last year.
ADB Country Director for Việt Nam Eric Sidgwick acknowledged that potential damage to Việt Nam's economy from the weather extremes forecast must still be taken into account, as agriculture remains "a small driver of growth".
"The longer drought and salinisation last, the more severe they become. So they will impact agricultural growth," he said.
Three main drivers boosting the economy are foreign direct investment (FDI) which hit a record high of US$14.5 billion last year, positive trends in consumer confidence and rising credit growth, and pro-growth government policies.
The engagement of Việt Nam in several international trade agreements, like the historic Trans-Pacific Partnership (TPP) and the ASEAN Economic Community (AEC), is thought to provide a major boost to the country's growth, while posing risks to domestic agriculture which remains weak and unable to compete on the global market.
It is thought that the TPP, in particular, might raise Việt Nam's GDP by 10 per cent and increase its exports by 30 per cent. This would make Việt Nam potentially the biggest financial beneficiary of the trade agreement.
Việt Nam's commitments to a series of free trade agreements, many yet to take effect, is helping the country win favour among businesses, said ADB Country economist Aaron Batten. "Businesses are already investing and positioning to take advantage of new opportunities," he said.
A December survey showed that 41 per cent of businesses expect conditions to improve this year. Another 40 per cent believe the business environment will remain stable.
Vital challenges
ADB lowered the regional growth forecast to 5.7 per cent this year, said Batten. Việt Nam stands out from the general slowdown of Asian economies. But it would be adversely affected by diminished growth prospects in the region.
Việt Nam is the most trade-dependent economy in the ASEAN bloc, excluding Singapore. So the country relies heavily on exports to drive economic growth.
Meanwhile, China, one of Việt Nam's major trading partners which accounts for 15 per cent of the VN's exports, was forecast by ADB to grow 6.5 per cent in 2016. And China's economic growth rate is projected to continue to drop to 6.3 per cent in 2017.
"The economic slowdown in the region could have a significant effect on Việt Nam over the next few years," Batten said.
Fiscal sustainability is another issue which the government must tackle as soon as possible. After reaching almost 62 per cent in 2015, the public debt keeps approaching the red line of 65 per cent of GDP, the limit set by the NA.
Non-performing loans nearly doubled, rising from $6.2 billion in 2014 to $11 billion last year.
Reforms of the banking system and State-owned enterprises should also accelerate over the next year to rebuild macroeconomic buffers, Batten said.