German Chancellor Angela Merkel arrived in Ho Chi Minh City on October 12, within the framework of an official state visit to Vietnam from October 11-12 at the invitation of Vietnamese Prime Minister Nguyen Tan Dung.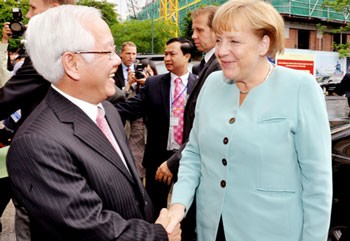 Chairman of Ho Chi Minh City People's Committee, Le Hoang Quan (L) greets German Chancellor Angela Merkel.  (Photo: Sggp)
Chancellor Merkel attended the Vietnam-German Economic Forum in Ho Chi Minh City later on the same day.
Deputy Prime Minister Hoang Trung Hai affirmed that the Forum is a platform for the Vietnamese government to introduce investment opportunities in various fields and discuss policies and strategies with German enterprises. Vietnam wants very much to strengthen business and cooperation ties with Germany.
Many leading German companies such as Siemens, Bosch and Metro Cash & Carry are operating successfully in Vietnam. So far there are 167 German invested projects worth US$ 864 million in the country. Germany ranks in 24th position from 92 countries with business interests in Vietnam.
Vietnam is determined to create advantageous conditions for German businesses to expand their investments in coming times.
Chancellor Merkel said that the German government wants to enhance cooperation to benefit the two countries. Vietnam should hence have a credible legal framework to operate with clear, non-bureaucratic and non-subsidized administration policies to boost foreign investment. The project "German House" will create advantages for German enterprises to resolve problems related to business investments in Vietnam.
The German Chancellor will push for the conclusion of a free-trade agreement between the EU countries and Vietnam.
Germany wants to strengthen cooperation with ASEAN countries and continue to provide assistance to Vietnam that will be mutually beneficial.
Germany is Vietnam's largest European trade partner, creating trade worth US$4 billion in 2010.