The German Business Association in Vietnam (GBA) held the "Meeting between Leaders of Ho Chi Minh City People's Committee" on May 16 in HCMC.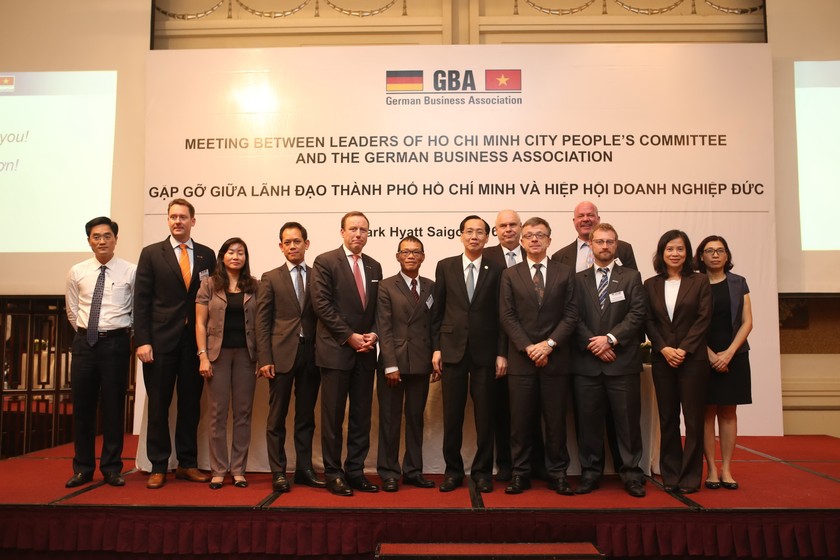 Representatives of GBA and HCMC leaders at the meeting
Vice Chairman Le Thanh Liem of the Ho Chi Minh City People's Committee and Heads of Ho Chi Minh City Departments with more than 90 representatives from our German members corporations, associations and partners attended the event.
The Open Dialogue focused on the main topic of "Economic Update and Development of Ho Chi Minh City in 2016 – 2017, Business Opportunities and Investment Cooperation for German Companies in Vietnam."
Vice Chairman Le Thanh Liem affirmed that the Germany-Vietnam relations have been strengthened and developed over the years and Germany is always the most important business partner of Vietnam amongst EU. Ho Chi Minh City is striving to regain its top one as main economic-, financial-, trading-, scientific-, and technological hub in South East Asia and thus openly welcoming more foreign investments to achieve this goal.
According to Ms. Le Thi Huynh Mai, Deputy Director of Department of Planning and Investment, by end of April 2016, German investments are at 17/75 in Ho Chi Minh city-wide with 114 FDI projects and more than US$ 200 million registered capital.
To improve the business investment climate, most concerned topics revolved around the City's measures to reduce traffic congestion including the prevention of flooding and air pollution, to face environmental challenges, to improve vocational training and enhance labor skills, as well as to contribute to more efficient administrative management. The City Leaders listened to the ideas, suggestions and constructive criticism of the German companies in the city and provided fruitful feedbacks.
Ho Chi Minh City is now focusing on 7 programs for groundbreaking developments to be implemented in the years 2015 – 2020. This will set to bring Ho Chi Minh City to the right direction of becoming a Smart city in the near future.
The Board of the German Business Association in Vietnam affirmed to lead the active role for further strengthening bilateral ties and trade exchange between Germany to Vietnam in general and to Ho Chi Minh City in particular.