Viet Nam's General Rubber Corporation (Geruco) has surpassed the rubber latex target of 2005 by 7.48%.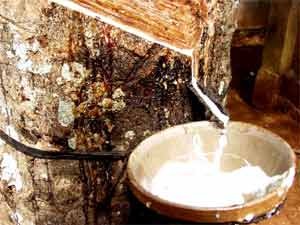 Rubber latex harvest in Southern Viet Nam
Geruco's 21 affiliates, covering a rubber area of nearly 176,000 hectares, produced 303,325 tons of rubber latex in 2005, exceeding the year target by 7.48% and reaching an average annual productivity record of over 1.7 tons per hectare.
The record productivity was attributed to the fact that most rubber trees are fully harvestable, said the corporation. Many rubber companies have applied flexible salary forms for workers, encouraging them to do their work better.
Most noteworthy is the Binh Long Rubber Company, which produced 34,000 tons of rubber with a productivity of 1.9 tons per hectare.