US-based Global Equipment Services & Manufacturing Inc. yesterday received a license to build a semiconductor design, manufacturing and service center in Saigon High Tech Park.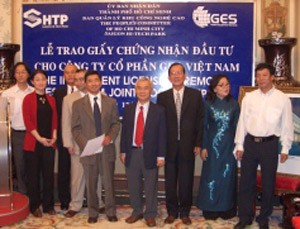 At the license presentation
GES Viet Nam Co. Ltd., as the local subsidiary is called, will take up 6,000 square meters of the hi-tech zone in Ho Chi Minh City's District 9.

The US$36-million center will design, manufacture and upgrade semiconductor equipment, and undertake warranty services for semiconductor manufacturers.

When it starts up in September 2008, the center will employ around 500 university and college graduates.

"Opening our business in Viet Nam is in preparation for the wave of giant semiconductor producers planning to come to the country soon," said Don V. Tran, an overseas Vietnamese and the parent company's managing director.

GES Viet Nam's plans for the center include supporting the billion-dollar chip assembly plant that Intel is building in Saigon High Tech Park and hopes to commission in the middle of 2009.