The 29 pavilions of Vietnamese enterprises were crowded with foreign business people on the first day of Global Entrepolis @ Singapore 2006 (GES) yesterday.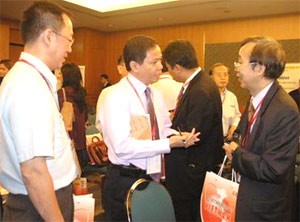 Delegates exchange their views at a business workshop
Although the Vietnamese pavilions were not ornate or even as big as those of other countries, they certainly drew in the numbers.

Pham Minh Thang, business director of Dien Quang Lamp Co., said a representative of the Singapore British Business Council had promised to help the company contact Britain's leading distributors of electrical products so that Dien Quang could get its products into the global market.

Tran Thi Hoang Lan, director of Y Lan Co., said many foreign companies, especially European, seemed very interested in her company's sand paintings and had even placed some orders.

The five-star Windsor Plaza Hotel took some bookings for November and December, said the hotel's marketing director, Doan Thi Thanh Nga.

The most crowded area housed the pavilions of Vinamit, Trung Nguyen Coffee, Tribeco Beverages, and several IT firms.

Vu Kim Hanh, director of the Investment and Trade Promotion Center of Ho Chi Minh City, said the Vietnamese enterprises attending GES 2006 had been selected from "100 strong trade names and 20 key trade names of the city, and 10 leading IT companies of the country."

After visiting Viet Nam's IT pavilions, vice president of Optimum Solutions Vinod Martin said that, in the eyes of Singapore's IT companies, Viet Nam's name was popping up as a good destination for outsourcing.

"Skilled, stable and effective labor forces, and low labor cost in the IT sector are some of the advantages which we are targeting to make contracts with Viet Nam," Martin said.

Chia Young Hui, executive director of Ansoft IT Consultancy Pte Ltd., will travel to Viet Nam this month to discuss contracts from Europe with his company's Vietnamese partners as the cost of labor in Viet Nam is half that in Thailand yet the local workforce is very skilled.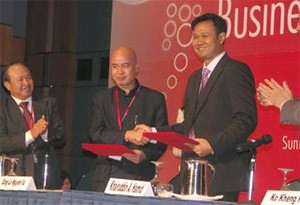 The signing ceremony of establishing the Vietnam Global Greatway Company
The two seminars involving Viet Nam were well attended. "Connecting Top Vietnamese Brands Together" was held by ITPC and Franchising and Licensing Association for the benefit of foreign distributors, while "VN IT Outsourcing" involved HCMC's leading IT enterprises and foreign companies.

A memorandum of understanding was signed in Singapore yesterday to officially establish the Vietnam Global Greatway Company.

VGG will be a joint venture between Viet Nam's G7 Trade and Service Co. and Singapore's TMW Group, a partner in the Locally-based Enterprise Advancement Program of Singapore's Economic Development Board.
GES 2006: The Enterprise, Innovation and Technology Exchange

Global Entrepolis @ Singapore was started by the Economic Development Board and the Singapore Business Federation in 2003.

It is held annually as an international marketplace for the exchange of funds, enterprise, innovation and technology among companies and top brands in the region.

GES 2006 contains over 40 major events: from strategic conference and industry seminars to venture capital summits and business workshops; from an emerging technology exposition to winning innovations and effective business matching platforms.

This year's GES has an exhibition space three times as big as last year's.

The organizers are confident of attracting 15,000 delegates from around the world to the four-day business event.

They predict that contracts worth over one billion Singaporean dollars will be signed at GES 2006.

Source: www.globalentrepolis.com