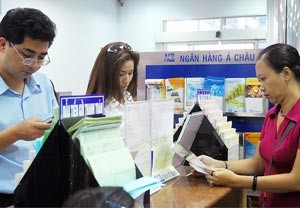 Customers at an Asia Commercial Bank office (Photo: SGGP)
New York-based magazine Global Finance has selected Asia Commercial Bank (ACB) the best bank in Vietnam 2009.
The Ho Chi Minh City-based bank says it will receive an award from Global Finance at a ceremony in Turkey next month.
Before Global Finance, magazines Asiamoney, FinanceAsia and Euromoney had also picked ACB as Vietnam's best bank for this year.
ACB is a leading commercial bank in Vietnam. It currently operates more than 200 branches and transaction offices nationwide.
Global Finance reportedly has more than 180,000 readers across the world.