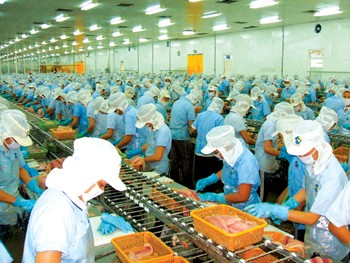 Seafood is processed in a factory (Photo: SGGP)
The Ministry of Agriculture and Rural Development said yesterday that the global financial crisis has seriously affected Vietnam's seafood exports.
Last month's shipments were worth US$450 million, down from $478 million in October.
Some seafood firms have cut exports by a third in the last few months since prices have fallen by 10 to 15 percent.
The price of tra, a catfish variety, has dropped from $3.4 to $3 per kilogram.
Breeders are expected to lose VND2,000 to 3,000 per kilogram since the price of fish feed remains high.