Global Sources, a leading business-to-business media company and a primary facilitator of trade with China, signed an agreement Sep. 14 with Vietcham Expo Company of the Vietnam Chamber of Commerce and Industry (VCCI) to promote exports of Vietnam-made home products.
Through the agreement, VCCI members will gain greater access to Global Sources' community of over 829,000 global buyers, Global Sources executive director Sarah Benecke said at the signing ceremony in Ho Chi Minh City.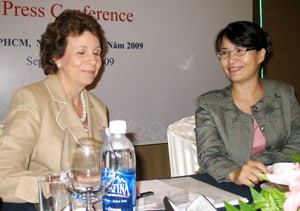 Global Sources executive director Sarah Benecke (L) chats with Vietcham Expo director Bui Thi Thuc Anh during the agreement signing ceremony in Ho Chi Minh City Sep. 14 (Photo: Tuong Thuy)
She said this would be made possible through prime booth space at the China Sourcing Fair in Hong Kong, an expanded private sourcing event schedule and export marketing training.
"Home products are consistently among Vietnam's top exports," she said. "In 2008, for example, furniture and bedding exports to the United States totaled US$1.4 billion, representing more than 10 percent of Vietnam's total U.S.-bound exports."
Ms Benecke elaborated "Despite the economic downturn, products made in Vietnam continue to gain market share worldwide, thanks to a mix of price, quality and design that is unmatched across a range of product categories.
"As our buyers look for more quality sources from Vietnam, we are working to help them locate suppliers on which they can rely."
Explaining why Vietcham Expo Company selected Global Sources to team up with, director Vietcham Expo Bui Thi Thuc Anh said Global Sources holds high prestige and offers useful measures and services to help exporters promote trade.
Ms. Anh said, "With the aim of helping Vietnam suppliers boost their export sales and diversify Vietnam-made products to overseas markets, we firmly believe our cooperation with Global Sources will help the local exporters of home products enter new markets and grow their businesses."
"Global Sources with 38 years of experience assisting Asian suppliers export to the world, they are an ideal partner," the director of the Vietnamese company said.
Benecke of Global Sources said her company has been facilitating global trade for 38 years, and its network covers more than 60 cities worldwide. She said in partnership with Vietcham Expo, her company would share database resources to promote trade between companies in Vietnam and global buyers. In addition, all qualified Vietnam suppliers will be featured on Global Sources' online platform.
Both Benecke and Anh said their partnership would provide marketing training for VCCI members to help improve marketing skills.
Benecke said Vietnam suppliers can provide products with good and attractive design and good quality, but their shortage of international marketing skills and communications skills are among obstacles they are facing. Therefore, such training is expected to help them overcome.
Global Sources is listed at the NASDAQ stock exchange as GSOL. It delivers information on 4.3 million products and more than 196,000 suppliers annually through 14 online marketplaces, 13 monthly magazines, over 100 sourcing research reports and 12 specialized trade shows which run 29 times a year across 10 cities.