Gold and pork prices yesterday dropped in Ho Chi Minh City.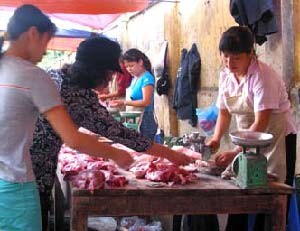 Haggling at a pork maket
SJC (Saigon Jewelries Company) gold suddenly dropped down to VND15.25 million per tael yesterday afternoon from VND15.34 million on October 29.
At the same time, the world gold has crashed to USD784 per ounce from USD795 a day earlier.
As the precious metal was listed on October 29 at VND15.34 million per tael while the world price $795 an ounce, investors started selling their gold yesterday for profits, which caused the price to dip, local experts explained.
Meanwhile, pork prices on the Pham Van Hai market in Ho Chi Minh City dropped VND1000 per kilogram from VND33,000-36,000 one day earlier while live weight pork still remained at VND26,500 per kilogram here. 
Entrepreneurs attributed this fall to a recent import tariff cut on pork.