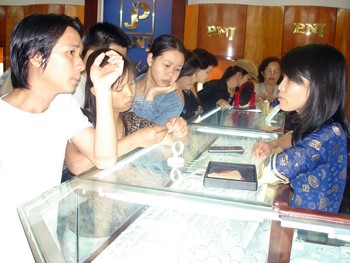 Customers buy gold at Phu Nhuan Jewelry. (Photo: Uyen Phuong)
Gold in Vietnam climbed to a record for a second straight day on October 14 after a forecast that it could peak at VND25 million a tael spurred demand for the precious metal.
Bullion jumped suddenly to VND23.70 million for buying and VND23.90 million for selling, an increase of VND350,000 a tael.
The metal closed at VND23.60 million yesterday, VND250,000 a tael higher than yesterday's opening price.
Domestic prices are currently rising faster than global prices, fetching VND400,000 higher than on the global market.
The scarcity of supply has also led gold traders to push the domestic price quicker than the global price.
Trading volume on the bullion market improved significantly, with buying taking the upper hand.
Customers boosted buying as they expected prices to advance further.
Trading on gold exchanges was muted with nearly 141,000 taels changing hands at VND22.73 million to VND23.10 million on the SBJ trading floor by 9:50am local time.
Globally, gold futures for December settlement rose as much as $7.5 an ounce, 0.7 percent, to $1,065 an ounce. In trading session, the metal touched $1,069.7 an ounce.
Gold was backed by the debasement of the greenback.
The US Dollar Index, a six currency gauge of the greenback's strength, fell to the lowest level in last 14 months.
The dollar exchange rate against the euro was at nearly $1.49 this morning, the lowest since August 2008.
Crude oil advanced for the fifth straight session as the US dollar weakened and a report by OPEC said global demand for kerosene would rise next year.
Crude oil for November delivery gained 88 cents a barrel, 1.1 percent, to $74.15 a barrel.
OPEC said global consumption would surge 700,000 barrels a day to 84.93 million barrels a day, 370,000 barrels higher than previous forecast.