Gold prices rose in the country after positive news of the Spanish debt crisis combined with U.S. numbers lifted the commodity even higher.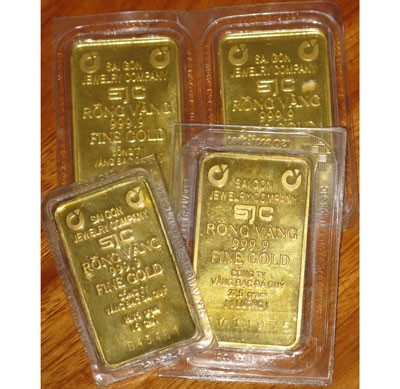 The gap between domestic and global gold prices is around VND2.8 million a tael (Photo: U. Phuong)
Price of gold bullion produced by Saigon Jewelry Company (SJC), Vietnam's biggest gold refiner, was quoted at VND47.48 million a tael and VND47.78 million a tael for bid and ask respectively as of 1.02pm Vietnamese time.
At the same time, Phu Nhuan Jewelry Company purchased gold at VND47.45 million and sold at VND47.75 million; Hanoi-based Phu Quy Jewelry Company quoted price at VND47.60 million for buying, and at VND47.77 million for selling.
The gap between domestic and global gold prices is around VND2.8 million a tael on October 2.
Analysts said price of the precious metal will exceed peak in February because investors are willing to take risks and the US dollar continues to be weak in the global market.
According to Exchange Traded Gold, SPDR Gold Shares (also known as SPDR Gold Trust), part of the SPDR family of exchange-traded funds and the second largest exchange traded fund in the world, has just bought an additional 1.8 tons at October 1 session.
On the Comex division of the New York Mercantile Exchange, gold futures for December delivery were up by 0.26 percent to $1,778.75 a troy ounce.
Sentiment strengthened after EU Commissioner Rehn said that fiscal consolidation in Spain needs to continue with determination, and that he doesn't expect the country's bank recapitalization to affect the structural deficit. He added that Spain's 2012 deficit target is within reach.
Elsewhere on the Comex, silver for December delivery soared 1.00 percent, trading at US$34.923 a troy ounce, while copper for December delivery was up 0.53 percent, trading at US$3.778 a pound.