Price of gold in Vietnam rose to VND44.1 million a tael (1.2 ounces) on March 31.
Hanoi-based Phu Quy Jewellery Company purchased SJC-brand gold at VND42.10 million and sold at VND42.60 million at noon.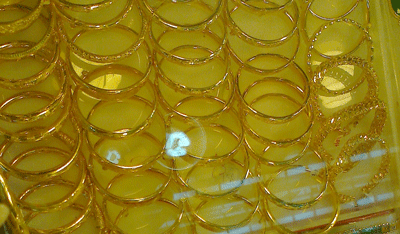 Price of gold in Vietnam rise on March 31 as there is slight increase in global price at the trading session in New York last night (Photo: U>P)
Bao Tin Minh Chau Jewellery Company quoted price of SJC at VND44.00 million for buying, and VND44.10 million for selling. AAA gold was bought at VND42.30 million and sold at VND42.70 million as of 11.40am Vietnamese time.  
Domestically, gold fetched around VND2 million a tael, higher than global price.
Internationally, gold prices ended month of March down by 2.46 percent, but ended quarter up by 6.38 percent. The most-active June gold contract on the Comex division of the New York Mercantile Exchange settled at $1,671.90 an ounce, up 0.42 percent on the week. May silver settled at $32.48 an ounce, up 0.66 percent on the week.
Gold performance has been lacklustre of late. Physical demand is down in Asia, in part because of a strike by Indian jewellers against a higher import tax on the metal, which has weighed on prices. Also, investors in exchange-traded funds are less enamored of the metal as of now.
Gold is being torn in two directions, according to a precious metal strategist at UBS. The improved U.S. economic outlook weighs on the metal, but it falls with riskier assets, and no longer a safe haven. Gold will likely retain its allegiance to riskier assets.
The recent weak gold prices have caused many investment banks to curtail their average price outlook for gold for 2012. Many of these banks hold a dimmer forecast for the second quarter. Among them, UBS, TD Securities and Deutsche Bank reduced their average gold price for the year to reflect the lacklustre performance in March.