The price of gold in Vietnam hovered around VND37.8 million a tael (1.2 ounces) on June 16 as global price climbed for two trading sessions in a row.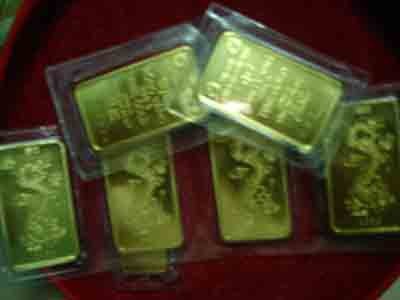 (Photo: Uyen Phuong)
Most jewelers bought the metal at nearly VND37.75 million and sold around VND37.8 million, an increase of VND70,000-80,000 a tael over the previous day.
Sacombank Jewelry Company bought the metal at VND37.74 million and sold at VND37.8 million as of 10 am local time.
Saigon Jewelry Company, the biggest gold shop in Vietnam, purchased gold at VND37.75 million and sold at VND37.82 million.
Meanwhile, the Hanoi-based Phu Quy Jewelry bought SJC-brand gold at VND37.72 million and sold at VND37.8 million at the same time.
Domestically, gold fetched around VND100,000-150,000 a tael lower than global price.
The dollar exchange rates against the Vietnamese dong at commercial banks slightly inched up. State-owned Vietcombank bought the greenback at VND20,555 and sell at VND20,615, an increase of VND15 per dollar.
Meanwhile, the interbank US dollar exchange rate stood steadily at VND20,618 since last weekend.
Internationally, gold highly advanced after the US economic data showed that the country's inflation was higher than forecast while industrial manufacturing suddenly grew at a slower pace, prompting investors to seek for the metal as a high-safety investment channel.

Gold for immediate delivery rose as much as $6.5 an ounce over the previous trading session, or 0.4 percent, to settle at $1,531.6 an ounce on the Comex in New York. Earlier, gold fluctuated between $1,513 and $1,536 an ounce.
However, the metal declined in the trading session in Asia this morning. Spot gold lost as much as $4.5 an ounce to trade at $1,527.1 an ounce as of 10:35 am Vietnamese time.
Investor confidence in the US currency was gradually eroded as the Republican and the Democratic parties still argued about debt ceiling.
In Europe, the sovereign-debt crisis remained unsolved and Greece almost reached default although the country received most of the 110 billion euro bailout package.
However, the greenback still took the upper hand against the shared currency. The euro exchange rate against the greenback was at nearly $1.42 a euro in Tokyo this morning from $1.44 a euro the previous day.
Crude oil plunged due to a stronger US dollar and the US negative economic news. Crude oil futures for July settlement slid as much as $4.56 a barrel, or 4 percent, to close at $94.81 a barrel on the New York Mercantile Exchange, the lowest level since February 22.
This morning, crude oil recovered $0.66 a barrel to trade at $95.47 a barrel as of 10:45 am Vietnamese time.