Price of gold in Vietnam jumped above VND44 million a tael (1.2 ounces) on March 26 while global price only inched slightly.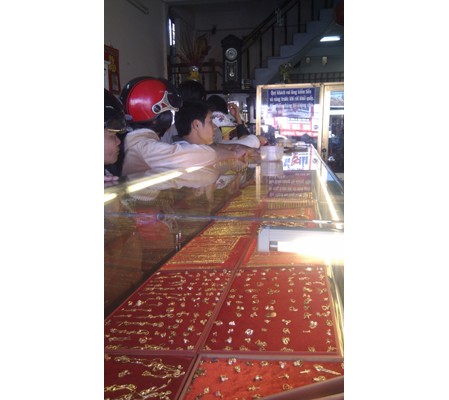 Gold jumps over VND44 million a tael on March 26. (Photo: T.Doan)
Sacombank Jewellery Company bought gold at VND43.95 million and sold at VND44.15 million as of 8.20am Vietnamese time.
Saigon Jewellery Company, Vietnam's biggest gold processer and trader, collected the metal at VND43.95 million and sold at VND44.15 million as of 7.54am Vietnamese time.
Hanoi-based Phu Quy Jewellery Company purchased SJC-brand gold at VND44.05 million and sold at VND44.14 million as of 9.08am Vietnamese time.
Bao Tin Minh Chau Jewellery Company quoted price at VND42.65 million for buying, and at VND42.95 million for selling at 10am Vietnamese time.
Domestically, gold fetched around VND2.2 million a tael, higher than global price.
On free market, dollars were bought at VND20,890 per dollar, and sold at VND20,920 per dollar. Last week, black market dollars rose VND80 per dollar after the State Bank of Vietnam announced that it would tighten foreign currency position in commercial banks.
Meanwhile, Vietcombank purchased the greenback at VND20,860 per dollar, and sold at VND20,920 per dollar, up VND20 per dollar from the previous day.
Eximbank bought dollars at VND20,840 per dollar, and sold at VND20,910 per dollar, down VND10 per dollar in buying price over the previous day.
Internationally, gold prolonged weak rising momentum as a weaker US dollar boosted demand for the precious metal.
The dollar index dropped to a two-week low on Friday on U.S. home sales data, which showed new US single-family home sales fell in February while prices jumped to their highest level in eight months.
In Asia, gold for immediate delivery rose as much as $1.1 an ounce over the closing price in New York last weekend to trade at $1,664.9 an ounce at 9.40am Vietnamese time.
US money managers in gold futures and options reduced their bullish bets for a third consecutive week to the lowest level in two months. SPDR Gold Trust, the largest exchange traded fund backed by bullion, also sold 10.6 metric tonnes of gold.
The euro exchange rate against the US dollar was at nearly $1.33 a euro in Tokyo this morning.
God futures for May delivery lost $0.25 a barrel to trade at $106.62 a barrel on the New York Mercantile Exchange at 9.45am Vietnamese time.