Global gold price made slight correction in the trading session this morning, causing the price of gold in Vietnam to drop VND350,000 a tael (1.2 ounces) on August 29.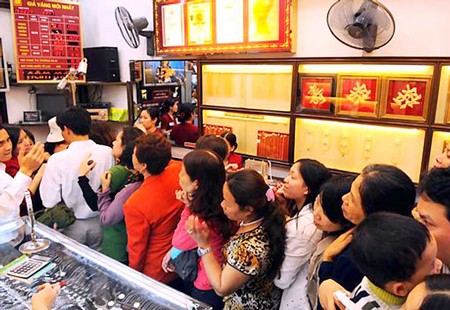 People flock to gold shop to trade gold in Hanoi when the metal soars. (Photo: SGGP)
Sacombank Jewelry Company bought the metal at VND46.81million and sold at VND47.29 million by 11 am local time.
Hanoi-based Phu Quy Jewelry Company bought SJC-brand gold at VND46.95 million and sold at VND47.4 million.
Trading on bullion market was slow as customers wait for more information.
Domestically, gold fetched VND1.6 million a tael higher than global price.
On the foreign currency exchange market, the rate stood steadily at VND20,830 for buying and VND20,834 for selling at Vietcombank. The inter-bank exchange rate was unchanged at VND20,628 per dollar.
The State Bank of Vietnam said it will raise the reserve-requirement ratio on the US dollar deposits to 8 percent since September.
Meanwhile, on free market, the rate slightly retreated from VND22,200. Dollars were bought at VND21,100 and sold at VND21,180 at 10 am local time.
Internationally, gold declined as the US Federal Reserve chairman Ben Bernanke said that growth will resume, boosting speculation that the central bank may not add more stimulus and eroding the metal's appeal as a haven investment channel.
Gold for immediate delivery fell as much as $8.3 an ounce over the closing price in New York to trade at $1,821.8 an ounce at 10:30 am Vietnamese time.
Last week, gold marked the first weekly drop after climbing for seven consecutive weeks despite a rise of 3 percent on Friday.
SPDR Gold Trust, the largest exchange traded fund backed by bullion, sold more than 60 metric tons of gold last week, sending its holdings to 1,230.8 metric tons.