After two days of fall, SJC gold saw buy and sell prices up VND200,000 a tael to VND36.79 million and VND37.12 million in HCMC late afternoon yesterday, an increase of VND180,000 and VND120,000 over the previous day.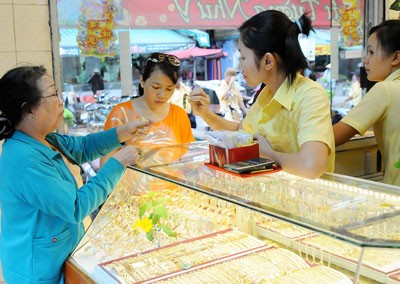 Gold price increases after two day of reduction on February 8th (Photo: SGGP)
Doji Group posted the prices at VND36.8 million and VND37 million, up VND120,000 of both buying and selling in Hanoi.

On Kitco bourse, gold price increased US$2.8 an ounce to swing around $1,235.5, about VND3 million a tael lower than SJC gold prices. In New York market, the price dropped $1.8 per ounce to $1,23.4 on Tuesday night.

After the State Bank of Vietnam lifted the VND to USD exchange rate up by 12 dongs per dollar on February 8th, commercial banks have announced an increase of 25-70 dongs a dollar.

Vietcombank and Vietinbank hiked the rate by 25 dongs to VND22,625 and VND22,695 of buying and selling. ACB increased the price to VND22,630 and VND22,700 a dollar, up 30 and 70 dongs of buying and selling.