Price of gold in Vietnam inched up over the weekend on May 28 thanks to slight rise in global price.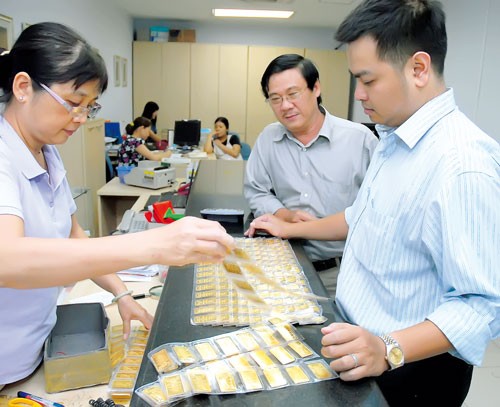 (Photo: SGGP)
Saigon Jewellery Company, Vietnam's biggest gold processer and trader, bought the metal at VND41.35 million and sold at VND41.55 million as of 10.40am Vietnamese time.
Hanoi-based Phu Quy Jewellery Company purchased SJC-brand gold at VND41.43 million and sold at VND41.58 million as of 10.16am Vietnamese time.
Bao Tin Minh Chau Jewellery Company quoted price at VND40.45 million for buying, and at VND40.75 million for selling at 10.50am Vietnamese time.
Domestically, gold fetched VND1.9-2 million a tael, higher than global price.
On free market, dollars were bought at VND20,880 per dollar, and sold at VND20,900 per dollar, up VND10 per dollar over last Friday.
Meanwhile, Vietcombank bought the greenback at VND20,830 per dollar, and sold at VND20,880 per dollar. 
Internationally, following an increase of 1 per cent at the trading session last Friday, gold continued to edge up at the trading session in Asia this morning as a weaker US dollar boosted demand for the precious metal.
Gold for immediately delivery rose as much as $2 an ounce to trade at $1,576.7 an ounce at 10.10am Vietnamese time.
The Euro regained after Greek polls showed that the pro-bailout government was in favour of public opinion.
Meanwhile, Spain's wealthy Catalonia region asked for help from the central government as it was running out of options for refinancing debt this year, adding to worries about Spain's finance.
According to the US Commodity Futures Trading Commission, speculators cut their net long position in US gold futures and options to its lowest since December 2008 in the week ending May 22.
SPDR Gold Trust, the world's largest exchange traded fund backed by bullion, net sold 12.6 metric tonnes of gold last week.
Euro exchange rate against the US dollar stood at nearly $1.26 a Euro in Tokyo this morning from $1.25 a Euro last Friday.
Crude oil futures for June delivery rose $0.79 a barrel to trade at $91.65 a barrel at 10.20am Vietnamese time.