The price of gold in Vietnam soared VND550,000 million per tael (1.2 ounces) over the previous day on August 16, supported by an increase of 1.1 percent in global price in the trading session last night in New York.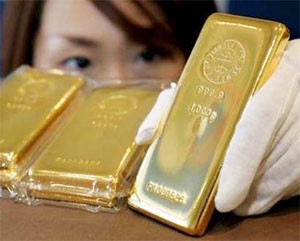 Global gold shot up as uncertainties in the US economy prompted investors to seek the precious metal as a store of value, boosting Vietnam's gold price
Most gold shops bought the metal at around VND44.4-44.5 million a tael and sold at VND44.7 million at 9:30 am local time.
Sacombank Jewelry Company bought gold at VND44.56 million and sold at VND44.69 million.
Hanoi-based Phu Quy Jewelry Company purchased SJC-brand gold at VND44.45 million and sold at VND44.72 million at the same time.
Domestically, gold fetched around VND400,000 a tael higher than global price.
The US exchange rate at commercial banks remained at the highest allowed prices and has not yet showed sign of decline. State-owned Vietcombank bought the greenback at VND20,814 and sold at VND20,824.
On free market, the rate went down this morning. Dollars were bought at VND20,830, and sold at VND20,870, a decrease of VND30 per dollar in both buying and selling prices over the previous day.
Internationally, gold shot up as uncertainties in the US economy prompted investors to seek the precious metal as a store of value.
Figures showed that industrial manufacturing in the New York region fell for three consecutive months in August, signaling that the economic recovery is at risk of stumbling.
Gold for immediate delivery gained as much as $19.9 an ounce over the previous trading session, or 1.1 percent, to close at $1,767.2 an ounce on the Comex in New York.
In Asia, bullion slightly dropped this morning. Spot gold slid $2.9 an ounce over the closing price in New York to trade at $1,763.4 an ounce as of 9:40 am Vietnamese time.
Holdings at SPDR Gold Trust, the largest exchange traded fund backed by bullion stayed at 1,260.2 metric tons after last week's sell-off.
The euro exchange rate against the US dollar was at $1.44 a euro in Tokyo this morning. Federal Reserve Bank of Atlanta President Dennis Lockhart said yesterday the central bank may purchase more Treasuries or alter its balance sheet if the economy were to slow further. The Fed completed $600 billion of bond purchases in June, its second round of so-called quantitative easing, or QE2. The country may need a possible QE3 if job and housing markets remain weak, which would causes depreciation pressure on the US dollar and helps gold to advance further. The green back has slumped 6.1 percent this year.
Crude oil futures for September settlement dipped $0.46 a barrel over the closing price the previous day to trade at $87.39 a barrel at 10 am Vietnamese time.