The price of gold in Vietnam surpassed VND49 million a tael (1.2 ounces) on August 23 as global price broke through the resistance level US$1,900 an ounce.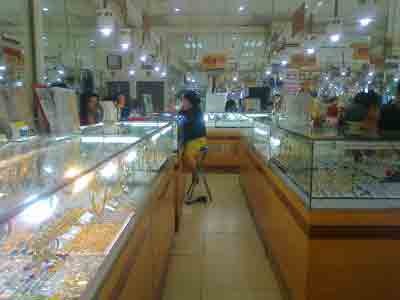 People don't buy gold when the domestic gold price is above VND300,000 a tael higher than global price (Photo: U. Phuong)
However, the metal declined at the end of the day due to losing pressure from global market and the statement of Vietnam's central bank governor.
Saigon Jewelry Company, the biggest gold shop in Vietnam, bought gold at VND48.15 million and sold at VND48.45 million in Ho Chi Minh City. In Hanoi, the company also collected the metal at VND48.15 million but sold at VND48.47 million. Earlier, the price surged to VND48.9 million.
At 11:15 am local time, Hanoi-based Phu Quy Jewelry Company purchased SJC-brand gold at VND48.85 million and sold at VND49.2 million. Domestically, gold fetched around VND1.2-1.4 million a tael higher than global price by that time.
Some gold traders suggested that people should not buy gold when the domestic gold price is above VND300,000 a tael higher than global price. Central bank governor Nguyen Van Binh also said that there are signs of speculation if domestic price is VND400,000 higher than global price.
On foreign currency market, most commercial banks raised their buying price to near the ceiling price. State-owned Vietcombank bought the greenback at VND20,820, an increase of VND20 per dollar over the previous day, and continued selling at VND20,824. Meanwhile, on free market, dollars added VND20 per dollar over the previous day. The greenback was bought at VND20,960, and sold at VND20,980.
Internationally, gold retreated from a record above $1,910 an ounce as investors sold the metal to take profits.
In London, immediate-delivery gold fell $15.78, or 0.8 percent, to $1,881.82 an ounce by 3:57 pm Vietnamese time. Earlier, the metal jumped to $1,913.5 an ounce in the trading session in Asia.
Yesterday, spot gold gained as much as $45 an ounce, or 2.4 percent, to close at $1,899.1 on the Comex in New York. Gold futures for December settlement also rose $41 an ounce to $1,893.2.
Bullion is up 17 percent in August, heading for its best monthly performance in the past 29 years.
SPDR Gold Trust, the largest exchange traded fund backed by bullion, sold 2.4 metric tons, reducing its holdings to 1,284.4 metric tons, the company's website showed.
The euro exchange rate against the greenback stood near $1.44 in Tokyo.