Price of gold in Ho Chi Minh City continued to fall this morning compared to the previous week, while financial institutions sold dollar at VND20,900, with Vietcombank offering the highest purchase price at VND20,910.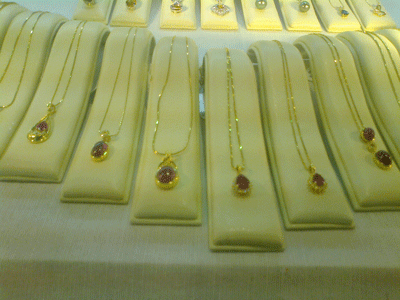 Gold falls further  in Vietnam (Photo: A. Quan)
As of 8.45am this morning in Ho Chi Minh City, gold price at Saigon Jewelry Co (SJC), Vietnam's biggest gold trader, was VND41.64 million and VND41.79 million for bid and ask, respectively.
While in Hanoi, SJC gold sold at DOJI Company and Bao Tin Minh Chau at VND41.71 million and 42.81 million a tael for bid and ask   respectively.
Yet Bao Tin Minh Chau's Rong Thang Long brand lost over VND50,000 compared to yesterday's closing price, falling to around VND40.15 and VND40.45 million a tael for bid and ask, respectively.
Though it is still some VND1,700,000 a tael higher than world gold price.
The Central Bank traded the greenback at VND20,850 and VND21,036 for selling and buying at 10am Vietnamese time.
In the world market, gold inched down on Monday, extending losses to a third session, on lack of conviction that the U.S. Federal Reserve would take measures to stimulate the economy anytime soon even after a disappointing jobs report. Investors maintained wait-and-see mode.
Spot gold dropped to its lowest in almost two weeks at $1,575.89 an ounce, before recovering slightly to $1,580.09 an ounce. U.S. gold futures contracted for August delivery was up 0.2 percent to $1,581.20.
Asia's physical gold market has been sluggish for a while, as the range bound price moves did little to excite investors.
Oil rebounded on speculation that the biggest drop in two weeks was excessive, after energy companies and labor unions in Norway failed to reach a compromise to prevent a strike from escalating.