A recent fluctuation in domestic gold prices triggered a rush to buy gold among investors who hoped to turn a quick profit. A Sai Gon Giai Phong reporter talked to Mr. Huynh Trung Khanh, an advisor to the World Business Council, with the hope of providing information to investors.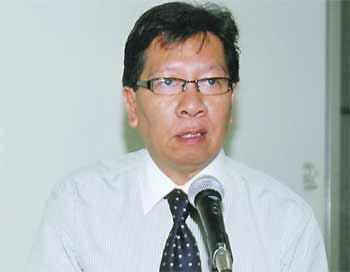 Mr. Huynh Trung Khanh, Advisor to the World's Business Council, advises gold investors to deeply understand the market
Reporter: What makes investors rush to buy gold instead share certificates?
Mr. Huynh Trung Khanh:
Vietnamese habit is to keep gold. There has been a surge in gold consumption in the past three years. Just in the first quarter of this year, gold enterprises and banks have imported more than 30 tons, accounting for 50 percent of the entire 2007 volume.
The reason why there is a rampant buying of gold is that real estate investors must pay high taxes and the stock markets keeps falling.  Moreover, gold investors can receive temporary preferential loans from banks. For instance, investors can borrow a sum higher than their original capital with a deposit of 7 percent at Asia Commercial Bank.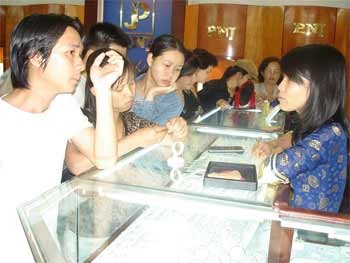 Fluctuation of gold price worries investors (Photo:U.P)
What risk could temporary investors face?
Without careful consideration, some people still jump into short-term investment which is suitable for pros. In addition, a massive gold volume is kept at houses. Banks have only 20 -30 percent of the total. The price will thus drop further if people sell the gold they keep at home.
The domestic gold market relies on the global market. But the price difference is huge because the dong can not be exchanged. Moreover, there is no connection between Vietnamese gold market and the world market. Gold importers must wait for a quota.
How to gain success in gold investment?
Investors should have a clear understanding of the world gold market. Local investors should check if the gold price has reached its anticipated levels and whether the US economy has recovered, in addition to knowing the price of oil and the rate of exchange for the US dollar.