In response to a slight recovery in global price, price of gold in Vietnam kicked off week at above VND44.3 million a tael (1.2 ounces) on March 19.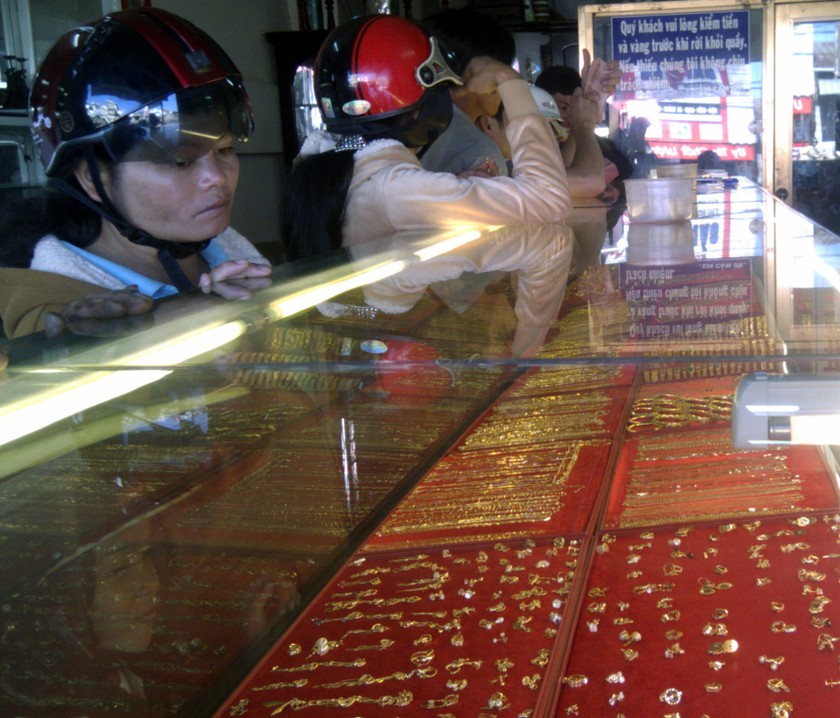 Customers buy gold at a gold shop. (Photo: T.Doan)
Last week, gold fell VND500,000 a tael, affected by a drop of 3 per cent in global price.
Sacombank Jewellery Company bought gold at VND44.09 million and sold at VND44.34 million as of 9.10am Vietnamese time.
Saigon Jewellery Company, Vietnam's biggest gold processor and trader, collected the metal at VND44.09 million and sold at VND44.34 million as of 8.50am Vietnamese time.
Hanoi-based Phu Quy Jewellery Company purchased SJC-brand gold at VND44.28 million and sold at VND44.38 million as of 8.56am Vietnamese time.
Bao Tin Minh Chau Jewellery Company quoted price at VND42.65 million for buying, and VND42.95 million for selling at 10.45am Vietnamese time.
Domestically, gold fetched around VND2.4 million a tael, higher than global price.
On free market, dollars were bought at VND20,820 per dollar, and sold at VND20,840 per dollar, a decrease of VND10 per dollar in buying price, and VND20 per dollar in selling price over last Friday.
Meanwhile, Vietcombank purchased the greenback at VND20,810 per dollar, and sold at VND20,870 per dollar, up VND20 per dollar over last Friday. The inter-bank dollar exchange rate remained unchanged at VND20,828 per dollar.
Internationally, gold rose as oil prices climbed due to concerns over escalating tension on Iran's nuclear programme.
In Asia, gold for immediate delivery rose as much as $2.2 an ounce to trade at $1,663.5 at 10.15am Vietnamese time.
However, gains may be capped as India planned to double its import duty for bullion, which could lead to a temporary drop in purchase.
Crude oil futures for April delivery rose $1.74 a barrel, or 1.7 per cent, to trade at $107.3 a barrel on the New York Mercantile Exchange at 10.20am Vietnamese time.
The euro exchange rate against the US dollar was nearly $1.32 a euro in Tokyo this morning.