Price of gold in Vietnam fell by VND1 million a tael (1.2 ounces) over the previous day to the lowest level in past nine months on May 9 fueled by a sharp drop in global price.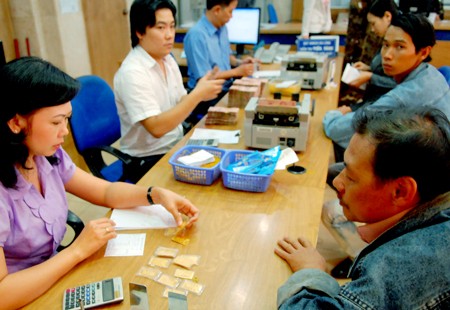 Gold sinks to a nine-month low on May 9. (Photo: SGGP)
Saigon Jewellery Company, Vietnam's biggest gold processer and trader, bought the metal at VND41.21 million and sold at VND41.36 million as of 11.03am Vietnamese time. Earlier, the metal sank to VND41.2 million a tael.
Hanoi-based Phu Quy Jewellery Company purchased SJC-brand gold at VND41.24 million and sold at VND41.36 million as of 10.59am Vietnamese time.
Bao Tin Minh Chau Jewellery Company quoted price at VND40.65 million for buying, and VND40.95 million for selling at 11.10am Vietnamese time.
Trading on bullion market became vibrant after being muted for a long time with buying demand taking the upper hand but selling pressure was also high as many investors concerned that the price would continue to decline further.
Yesterday, Saigon Jewellery Company bought 3,700 taels of gold and sold 4,200 taels, two or three times higher than previous days.
Domestically, gold fetched VND1 million a tael, higher than global price.
On free market, dollars were bought at VND20,840 per dollar, and sold at VND20,860 per dollar, up VND10 per dollar over the previous day.
Meanwhile, Vietcombank bought the greenback at VND20,830 per dollar, and sold at VND20,880 per dollar, a decrease of VND5 per dollar in buying price, and VND30 per dollar in selling price from the previous day.
Internationally, gold sank steeply as the euro dropped drastically after Greece's new leadership sought to form a government that threatens to go back on the bailout plan and drive the country out of the eurozone.
Gold for immediate delivery fell as much as $33.7 an ounce, or 2.1 per cent, to close at $1,605.8 an ounce in New York last night.
In Asia, the heavy metal dropped $7.6 an ounce to trade at $1,598.4 an ounce at 9am Vietnamese time.
Political turmoil in Greece urged investors to flee from the shared currency, seeking for safe-havens like German bonds and the US dollar.
The Euro exchange rate against the US dollar declined for seven consecutive trading sessions, standing below $1.3 a euro in Tokyo this morning.
Crude oil futures for June delivery dipped $0.14 a barrel to trade at $96.86 a barrel at 9.20am Vietnamese time.