Domestic gold prices remain on a rising trend on Thursday, following a gaining streak in world prices. The increase shows no sign of retreating as investors do not cash in on the current move of the precious metal, financial experts say.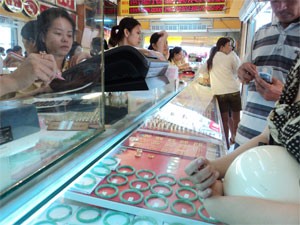 Financial experts expect that gold will increase further in medium term (Photo: Minh Tri)
At local gold shops, the precious metal traded at a fresh record high of VND41.2 million (US$2,060) per tael Thursday morning, after world prices peaked at $1,700 per ounce. A tael is equal to 1.21 ounces.
Domestic gold continues its gaining streak on the surging world price, says Nguyen Thi Cuc, deputy general director of Phu Nhuan Jewelry Company.
Vietnam's gold looks set to catch up the world price on the increasing dollar-dong exchange rate and stronger sales of the precious metal, Cuc predicts, adding that domestic price remains cheaper than international price by around VND200,000 per tael.
"Domestic price will retreat only if the world price drops and US dollar gets weaker," she says.
Domestic gold will unlikely to decline in short term as investors do not cash in on the soaring gold price, Nguyen Cong Tuong, deputy head of business department of the gold trader Saigon Jewelry Company (SJC), notices.
Financial experts say Vietnam's gold struggles to fall below VND40 million per tael as the yellow metal always moves up in the last three months every year.
Ton The Vinh Quyen, marketing manager of gold trader SBJ, says the current price remains adequate for investors to buy gold as medium-term investments.
SBJ financial experts say technical charts show gold is still on a rising trend.
Gold, pressured on Thursday by a surging dollar as Japan intervened to rein in its currency, scaled back earlier gains  but remained firmly supported by worries about the widening euro zone debt crisis and slowing global growth, according to Reuters. 
Spot gold eased from an intra-day high of $1,668.76 to $1,662 an ounce by 0625 GMT, little changed from the previous close. It hit a record of $1,672.65 in the previous session.
U.S. gold GCcv1 edged down 0.1 percent to $1,664.6 an ounce, off the all-time high of $1,675.9 on Wednesday. 
Vietnam exported around 24 tons of gold, mainly in the form of jewelry, in the first six months of this year, according to the General Department of Customs. SJC alone exported between 500 and 600 kilograms of gold in the first two weeks of July.