The domestic gold price dropped to VND17.62 million (US$1072) per tael on Saturday, the lowest level in five weeks. The decrease in price has made traders debate whether to buy gold or not.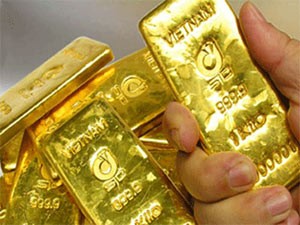 The domestic gold price has dropped continuously
The gold price Saturday was down VND70,000 per tael compared to the previous day and VND970,000 per tael compared to Aug. 4. The world gold price was US$857.30 per ounce Saturday, a drop of US$35.90 compared to the previous day.
 
Mr. Huynh Trung Khanh, advisor to the World Gold Council in Viet Nam and vice chairman of the Viet Nam Gold Business Association, said the decline of world oil price and the euro last weekend have had an impact on gold price.
 
Financial experts forecast that the world gold price will decline to US$860 per ounce in a short time. It could even decline to US$850 per ounce in a few days if the oil price and the euro continue to drop and European Central Bank retains the euro interest rates at 4.25 percent.
 
The above is just an experts' judgment. Long-term investors are currently still interested in buying gold. Last week, many investors withdrew their bank deposits to buy gold.
 
Chau Thy, a long-term gold investor in Ho Chi Minh City's Go Vap District, predicted that the gold price will increase by the end of the fourth quarter and that he plans to buy 50 taels.
 
Despite the price drop, gold traders are buying less now than they did early last week.
 
Mr. Nguyen Thanh Toai, deputy general director of Asia Commercial Bank, said this is a reasonable time to buy gold for the purchase of property. For investment, buyers should be careful because the domestic gold price follows close behind the world one.
 
Traders can buy gold when it is US$850-870 per ounce or VND17.6 million per tael because the price is likely to bounce back in late 2008 and early 2009, said Mr. Khanh.
 
Since early this month, the domestic gold price has been up and down following changes in the world gold price.
 
By keeping the dollar interest rate at 2 percent since Aug. 5, the U.S. Federal Reserve has strengthened the dollar compared to other hard currencies, especially the euro. This is a factor that might cause the gold price to drop in the future.
 
International gold traders are still selling gold. The U.S.-based Gold Shares Fund has just sold over 15 tons of gold.