Gold prices continued to fall. In the domestic market, a one tael ingot of SJC and PNJ gold fell to VND16.6 million on Thursday, down VND250,000.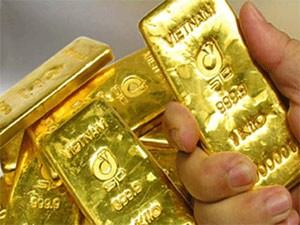 Gold prices continue to fall
Domestic gold prices are still higher than international prices by VND1.2 million per tael.

The world gold price was US$746 per ounce Thursday, down US$4 per once since Wednesday, US$28 per ounce since Tuesday, and US$55 per ounce compared to early last week.

Yesterday's world gold price was lowest so far this year.

Economists said the gold price decreased sharply because investment funds have sold over 700 tons of gold, especially in the U.S., which has a large reserve.

The U.S. dollar rose by VND20 in the Ho Chi Minh City market Thursday. The buying price for a dollar was VND16,560 the selling price was VND16.630. A euro sold for US$1.39.