International gold price drop from US$1,310 per ounce on October 4 to US$1,265.5 two days later has resulted in the local reduction of nearly VND700,000 per tael for the last two days.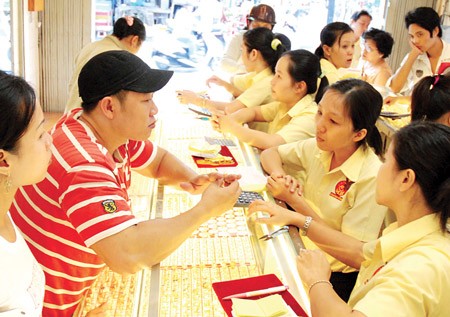 A jewelry shop in HCMC (Photo: SGGP)
Specifically, local gold price fell VND600,000 on October 5 and continued sliding by another VND80,000 on the flowing day.
The strong fluctuation has sent businesses to extend the gap between the buying and selling prices by VND250,000 a tael to take precautions of risks.
At 3 p.m. on October 6, Saigon Jewelry Company (SJC) in HCMC posted the price at VND35.21 million and VND35.46 million per tael (buying and selling).
Doji group bought a tael at VND35.3 million and sold at 35.4 million at the same time in Hanoi.
Compared to its peak of VND39.5 million per tael on July 6, SJC gold price has dropped over VND4 million after three months.
In global market, the price has reduced by over 3 percent to the lowest level since the UK exit from the EU at the end of June.
On Kitco bourse, it was US$1,263.9 and US$1.264.9 per ounce (buying and selling), which is about VND1.4 million per tael lower than SJC prices.