Price of gold in Vietnam retreated by VND70,000 a tael (1.2 ounces) over the previous day on July 19 although global gold trade changed  little.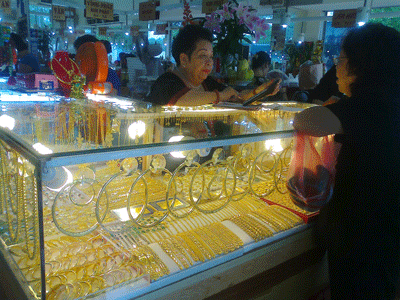 Although gold plummets, a few people ask to buy it (Photo: A. Quan)
Saigon Jewelry Company, Vietnam's biggest gold processer and trader, bought the metal at VND41.6 million and sold at VND41.7 million as of 9.44am Vietnamese time.
Hanoi-based Phu Quy Jewelry Company purchased SJC-brand gold at VND41.67 million and sold at VND41.75 million as of 11.10am Vietnamese time.
Sacombank in Ho Chi Minh City quoted price of its own SBJ-brand at VND41.69 million for buying, and at VND41.75 million for selling at 11.30am Vietnamese time.
Domestically, gold fetched VND2 million a tael higher than global price.
Meanwhile, Vietcombank quoted the rate at VND20,82 per dollar for buying, and at VND20,86 per dollar for selling.
Eximbank purchased dollars at VND20,80 per dollar, and sold at VND20,86 per dollar, with little change from previous day.
In the world market, gold struggled on dim stimulus hopes. Spot gold traded nearly flat at $1,573.04 an ounce. U.S. gold future contract for August delivery inched up 0.1 percent to $1,573.
India's gold imports fell by more than a half in the June quarter and could slide by a third in the next three months as prices inflated by a weak rupee and a 4 percent import duty encouraged traders to use scrap.
The euro steadied in Asian trade on Thursday but remained under pressure after reported comments by German Chancellor Angela Merkel rekindled fears about the eurozone debt crisis.
Crude oil futures rose in Asian trading Thursday, after U.S. housing starts surprised on the upside, reaching their highest level in nearly four years. On the New York Mercantile Exchange, light, sweet crude futures for delivery in September traded at $90.18 a barrel on Thursday, up 0.01 per cent, off from a session high of $90.36 and up from an earlier session low of $88.91.