Soaring domestic and international gold prices saw frenetic trading of the precious metal on September 18.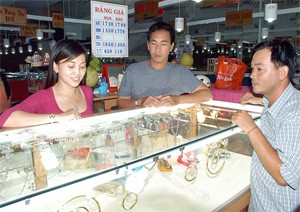 At a jewelry shop in Ho Chi Minh City (Photo: SGGP)
The Saigon Jewelry Holding Company (SJC) bought a record 20,000 taels in the morning as a whopping 657,250 taels, worth VND11.7 billion were traded at Asia Commercial Bank's gold trading floor yesterday.
 
This was double the volume traded on September 17 and treble the daily average.
 
Most of investors made huge sales in the morning and similar purchases towards the end of the day, though Huynh Trung Khanh, advisor to the World Gold Council in Viet Nam, warned that gold investors should trade their gold within a day.
 
SJC gold was bought at VND17.9 million per tael and sold at VND18.2 million per tael in the morning yesterday and PNJ-BAD gold recorded respective figures of VND17.8 million and VND18.3 million per tael.
 
As international gold prices dropped towards the end of the day, the buying and selling prices of SJC gold decreased correspondingly to VND17.75 million and 17.95 million per tael, still 1.04 million per tael higher than the previous day.
 
In order to avoid losses due to sudden changes of the world gold price, gold companies maintained big differences between buying and selling prices of VND200,000 or even VND500,000 per tael.
 
The world gold price surged by a record high of US$100 per ounce to US$892 within 24 hours on September 18, and dropped by US$16 by the end of the day.
 
Khanh said fluctuations of gold prices on September 17 and 18 proved that the present gold prices depended very much on international speculators who have sold out their stocks to buy gold after the bankruptcy of two US banks Lehman Brothers and Merrill Lynch.