The price of gold in Vietnam sank by VND200,000 a tael (1.2 ounces) on August 1 as global price tumbled after the US government reached an agreement to raise its debt limit before a deadline on August 2.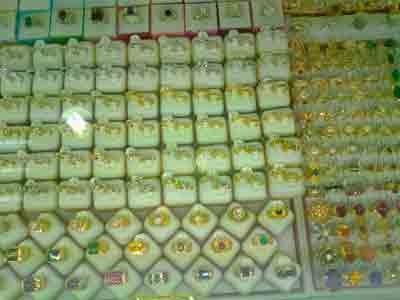 The price of gold in Vietnam sank by VND200,000 a tael (1.2 ounces) on August 1 (Photo: U. Phuong)
Saigon Jewelry Company bought the metal at VND39.87 million and sold at VND39.94 million as of 9 am local time. Hanoi-based Phu Quy Jewelry purchased SJC-brand gold at VND39.84 million and sold at VND39.94 million at the same time.  Domestically, gold fetched around VND50,000 a tael lower than global price.
State-owned Vietcombank raised the US dollar exchange rate the first time after almost standing still for two weeks. The lender bought the greenback at VND20,565 and sold at VND20,615. However, the inter-bank exchange rate remained at VND20,608 per dollar.
Internationally, gold plunged after President Barack Obama said that leaders of both parties in the US House and Senate had approved an agreement to raise the nation's debt ceiling by $2.1 trillion and cut the federal deficit by as much as $2.5 trillion over a decade, and a rally to record boosted sales.
In Asia, gold for immediate delivery lost as much as $16 an ounce over the closing price in New York to trade at above $1,612 an ounce as of 9 am Vietnamese time.
Republicans and Democrats may vote today on the measure, which would raise the $14.3 trillion debt ceiling through 2012, cut spending by about $1 trillion and call for enactment of a law shaving a further $1.5 trillion from long-term debt by 2021. Lawmakers should "do the right thing," Obama said from the White House late on July 31 in Washington.
The euro exchange rate against the US dollar was at below $1.44 a euro in Tokyo this morning from above $1.44 last weekend.
Crude oil futures for September delivery gained $1.5 a barrel over the closing price in the previous trading session to trade at $97.2 a barrel on the New York Mercantile Exchange at 8:50 am Vietnamese time.