Gold soared to VND19.26 million per tael (37.5grams) in Ho Chi Minh City on February 12, VND300,000 up from a day earlier.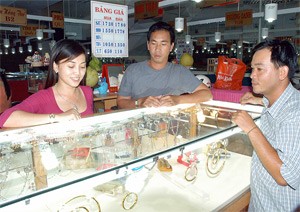 Gold soars sharply on February 12
At the SJC Ha Noi, the metal gained VND320,000 to close at VND19.3 million.
 
At Bao Tin-Minh Chau Jewelry Company and the Vietnam Bank of Agriculture and Rural Development, the rates were similar.
In Ha Noi, people heavily sold the precious metal, which has risen from around VND18 million just a few weeks ago.
 
A Bao Tin-Minh Chau outlet on Tran Nhan Tong Street had to stop buying gold Thursday afternoon because of the crush.
 
A spokesperson said the company traded nearly 1,000 taels Thursday, with buying accounting for 99 percent. Of the remaining 1 percent it sold, most was in the form of jewelry, he said.
Gold dealers said gold prices have spurted on the world market to around US$937 per ounce (31.1 grams), VND500,000-600,000 per tael higher than in Viet Nam.
But despite the skyrocketing prices, dealers said there is not a big difference between buying and selling volumes. Many sold, but many others bought hoping for higher prices, they added.
 
Some analysts warned, however, that investors should not follow the crowd to trade gold because the prices are likely to remain highly volatile.