Price of gold in Vietnam dropped further on May 3 due to depreciation pressure in global price.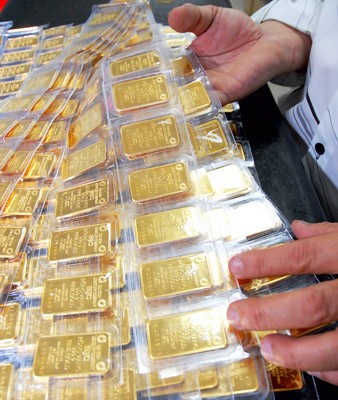 (Photo: SGGP)
Sacombank Jewellery Company bought gold at VND42.75 million and sold at VND42.9 million as of 8am Vietnamese time.
Saigon Jewellery Company, Vietnam's biggest gold processer and trader, collected the metal at VND42.46 million and sold at VND42.66 million as of 10.32am Vietnamese time.
Hanoi-based Phu Quy Jewellery Company purchased SJC-brand gold at VND42.59 million and sold at VND42.69 million as of 10.33am Vietnamese time.
Bao Tin Minh Chau Jewellery Company quoted price at VND42.15 million for buying, and at VND42.45 million for selling at 11.10am Vietnamese time.
Domestically, gold fetched around VND1.2 million a tael, higher than global price.
According to gold traders, the price level of around VND43 million was not attractive enough for investors. Buying demand is expected to improve if the heavy metal declines further.
On free market, dollars were bought at VND20,840 per dollar, and sold at VND20,860 per dollar, unchanged from the previous day.
Meanwhile, Vietcombank bought the greenback at VND20,830 per dollar, and sold at VND20,880 per dollar, a decrease of VND20 per dollar over the previous day.
Internationally, gold fell the second day as negative economic data fueled concerns over global growth.
A report by ADP Employment showed that US companies hired the fewest people in seven months in April, a worrisome sign for a labour market that has struggled to gain traction and adding to concerns that the economy has lost some momentum.  
Furthermore, new orders for US factory goods in March recorded their biggest decline in three years as demand for transportation equipment and a range of other goods slumped.
Gold for immediate delivery fell as much as $8.5 an ounce, or 0.5 per cent, to close at $1,654.7 an ounce in New York last night.
In Asia, the metal maintained losing momentum at the trading session this morning. Spot gold lost $5.1 an ounce to trade at $1,649.6 an ounce at 10am Vietnamese time.
The euro exchange rate against the US dollar was at a two-week low of $1.31 a euro in Tokyo this morning.