Gold maintained in Vietnam today despite a drop in global price.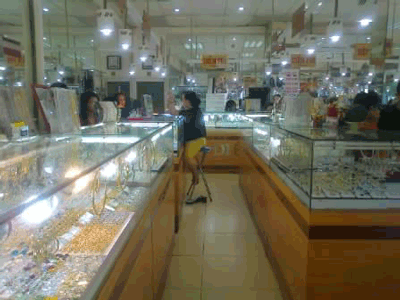 Vietnam maintained price of gold despite drop in global market (Photo: Quan Vu)
Globally gold declined by US$5, while maintaining price in country. As a result, gold still fetched VND2 million a tael, higher than global price.
Saigon Jewelry Company, the biggest gold processor and trader in Vietnam, collected the metal at VND44 million and sold at VND44.2 million as of 11.07 am Vietnamese time.
Sacombank Jewelry Company bought gold at VND43.85 million and sold at VND44.15 million as of 8.40am Vietnamese time.
Hanoi-based Phu Quy Jewelry Company purchased SJC-brand gold at VND44.15 million and sold at VND44.35 million as of 11:08am Vietnamese time.
Meanwhile, Bao Tin Minh Chau Jewelry Company quoted prices at VND44.15 million for buying, and VND44.35 million for selling at 12:49pm Vietnamese time.
Internationally, gold fell, breaking ranks with the euro and equities as tame US inflation data prompted bullion investors to take profits after a three-day rally pushed prices to their highest level since mid-December. Spot gold slipped $2.55 an ounce to $1,654.24. Bullion struck a record around $1,920 last September.
Indian and Asian gold prices were down slightly overnight and with the entire metal showing weakness.
Gold for immediate delivery in February reduced as much as $7.5 an ounce to close at $1,652.4 an ounce on the Comex in New York.