Domestic gold and stock prices continued their upward climb on September 23 with gold closing at 18.10 per tael and the VN-Index gaining six points.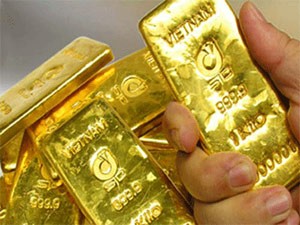 Domestic gold prices continue to rise on September 23
Gold was being traded at VND18.32 million in Ho Chi Minh City yesterday, up from VND17.77 million two days ago.
It dropped by VND220,000 per tael  to 18.10 million by the end of the day, but that was VND300,000 higher than last weekend.
 
The Saigon Jewelry Holding Company (SJC) sold 500 and bought 2,000 taels.
 
Gold was traded at VND18.13 million per tael at the Asia Commercial Bank's gold trading floor.
 
The world gold prices reached US$902 per ounce, its highest value in the past seven weeks, as more investors sold US dollars to buy precious metal.  However, the price decreased by US$12 per ounce by the end of the day.
 
Trading record
 
The Ho Chi Minh Stock Exchange saw a record high of 40 million stocks worth VND1.4 trillion traded yesterday.
 
Sale orders were received for as many as 64 million shares, seven times higher than a day earlier. Of these, 38.5 million shares were sold for a total of VND1.3 trillion.
 
Foreign investors bought nine million shares and sold only three million.
 
The heavy volume of trading saw the VN-Index gain six points to close at 465.
 
The trading volume increased in the north as well, with 27.9 million shares changing hands.