The gold market has so far showed positive signs, many gold companies said, following Prime Minister Nguyen Tan Dung directive on December 30 to shut down all gold trading floors operated through domestic accounts from March 30.
The domestic price of gold has come closer to that on the world market, and daily price fluctuations of VND1-2 million (US$52.6-105.2) per tael have also been curbed, they said.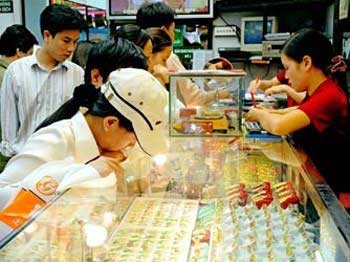 Customers at a gold shop in HCMC. The domestic price of gold has come closer to that on the world market following the PM's directive to close all gold trading floors operating via domestic accounts from March 31, gold companies said. (Photo: Thehetre.vn)
Local companies also confirmed that the closing of gold trading floors would not influence the volume of gold traded on the market or their prices.
Yesterday, March 31, most commercial banks' gold trading floors shut down in compliance with the directive and many have adopted new business plans instead. 
Ton The Vinh Quyen, sales director of the Sacombank-SBJ Company, said his company closed its gold trading floor on February 11 and turned to trading in gold bars, especially SBJ products, through direct deals with customers via its network of agents nationwide.
The company will apply a business policy in which its buying price will be VND10,000-20,000 less than market prices of similar items, he said. Its selling prices, meanwhile, will be VND10,000-20,000  higher than market prices.
In addition, the company will help its customers enjoy preferential interest rates when they make deposits of SBJ gold at Sacombank.
As for gold jewelry, the company will set up eight shops in Ho Chi Minh City and offer attractive after-sale services, he added.
The prompt actions of the company have led to sales of around VND3.3 trillion (173.7 million) for the Jan-February period, equal to 40 percent of last year's total sales.
Lam Minh Chanh, director of the Vang The Gioi Gold Trading Floor, said the company is seeking partners for its new business plan in which the company will cooperate with securities companies, financial consultants and fund managers.
Meanwhile, as the Prime Minister has extended the March 30 deadline to June 30 for gold trade through foreign accounts, many companies have been stepping up gold trading on their websites.
Many businesses are also seeking to open gold trading floors in Laos or Cambodia.
However, experts at the World Gold Business Association in Vietnam said that sanctions should be imposed on any illicit gold trading floors to prevent tax loss or social disorder where floor owners are insolvent or flee without paying investors.
In particular, when unlawful gold transactions are made via foreign accounts, there will be a risk of foreign exchange bleeding, since the winning rate is just 4/10, experts said.
Gold price down in HCMC

At 5pm on March 31, the world gold price was US$1,108.7 per ounce, while the domestic prices of SJC and SBJ brands in HCMC were bought for 26.08 million ($1,368.4) per tael and sold for VND26.12-26.13 million per tael, down VND100,000-200,000 per tael compared to the closing price on the previous day.
Related articles:
Closing gold trading floors, a sound decision: gold businesses, experts
Central bank wants banks to take over gold-trading floors
Gold trading floors to be shut down