As gold remains very volatile this year, Dau Tu Tai Chinh Newspaper has interviewed experts about the market trend and their advices about how to trade the precious metal during a fluctuated market.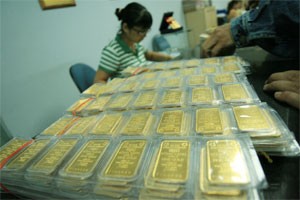 View of mini gold bars covered in small plastic packs at a HCMC-based jewelry shop. Experts recommend traders should be cautious in the precious metal's price movement this year (Photo:Minh Tri)
Huynh Trung Khanh, Vice Chairman of the Vietnam Gold Business Association

As a former consultant of the World Gold Council in Vietnam, I have three advices to local gold investors.
First, investors should keep close eyes on the global economic news through financial media including Bloomberg and CNBC in order to predict the gold price in short terms. The exchange rate of the US dollar and other strong currencies around the world and the crude oil price are among the factors affecting the precious metal's price.
Second, they need to learn how to acknowledge the technical-chart analysis of the gold prices, comprising of Relative Strength Index (RSI), Moving Average Convergence-Divergence (MACD) and Ichimoku.
These indicators will help investors set up the support and the resistant levels of gold price trend, enabling them to make appropriate decisions in trading gold.
The last advice is that investors have to fully comply with their take-profit and stop-loss levels. For example, they should place selling orders instantly when the gold price drops US$5 per ounce to cut losses, or take profits when the price moved up by $15 per ounce.
They should also rely on the daily trading band to set the two levels. Investors should be very cautious before making any decisions to avoid heavy losses as the gold prices are volatile.
Nguyen Thanh Long, General Director of Vietnam Import Export Bank
Gold prices fluctuating with big trading bands in the last two years showed the instability of the global finance and monetary.
No one can predict the yellow metal's price trend now. I think now only professional and experienced traders should trade gold.
It is a tradition for Vietnamese people to own gold mini bars, which they expect to help them cope with difficult times. The gold price here is affected by people sentiment. If the economy shows some signs of instability, they'll keep gold at home. Inflation climbs up high, people will also rush to buy gold.
Earlier there was just a few of gold traders. Many people now are willing to invest in the precious metal as they are lured by big profits from trading gold.
There are losses and wins in trading gold. The price has never been unchanged in a long time. It goes up and down, creating profit-taking opportunities to professional investors and also trapping inexperienced and impatient ones.
Le Hung Dung, Chairman of Saigon Jewelry Holding Company
The factor making big impacts on the gold price this year is the US's public debt. Last year, the public debt was $13.8 trillion and the gold price was $1,350 per ounce.
The former is expected to increase to $15.3 trillion this year, making the precious metal's price to rise to $1,500 per ounce. Next year, the public debt will likely to reach $16.5 trillion and the gold price is predicted to jump to $1,663.
Financial experts said a huge amount of dollars coming from the second quantitative easing nicknamed "QE2" of the US Federal Reserve would be expected to raise inflation in the US and the other markets that the amount flowing into.
Therefore, there will be a big gap in interest rate between the US and other countries, making gold prices continue to move up further. Statistics in 2010 show the gold price rose 37 percent as the dollar was devalued 26 percent.